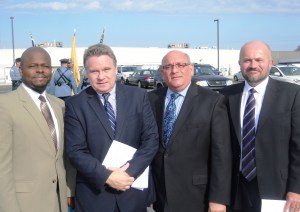 It was just weeks after the Sept. 11 attacks and the country was still reeling from its shattered reality. The grisly cleanup effort at the World Trade Center was under way, as was the war in Afghanistan, launched in retaliation for the deadliest attack by a foreign entity ever on U.S. soil.
Letters, found to be laced with anthrax, were processed through a local Hamilton plant and sent on to their destinations, resulting in the deaths of five Americans, including two postal workers. Twenty-two others fell ill and the country was again gripped with fear.
Today marked the 10-year anniversary of the closing of the processing plant, which did not reopen for three and a half years. U.S. Rep. Chris Smith, (R-4), who was front and center when the attacks occurred, helping to secure much-needed Cipro for the sickened postal workers, was on hand at the Route 130 facility along with 200 postal workers to commemorate the incident.
"Today, 10 years after the shutdown of this facility as a result of the first case of anthrax bioterrorism in the U.S., we remember the victims of the exposure — those who got sick, those who died and those who were traumatized emotionally — and the extraordinary courage and fortitude of postal employees and management who persevered despite overwhelming concerns of contamination," said Smith, who spoke at the event.
In addition to aiding with the health concerns of the stricken workers, Smith worked with the USPS to prevent the unnecessary transfer of employees to distant USPS locations, and to ensure that workers would receive mileage payments for travel costs resulting from longer commutes to other work places. He also helped the hospital recoup $600,000 in expenses incurred from the response effort and successfully pressed financial companies not to assess fines for late payments due to the impact of the attacks on the mail.
The resulting FBI investigation lasted the better part of the decade, focusing on an Army medical research facility in Maryland and researchers who worked there.
Eventually, the FBI zeroed in on Dr. Bruce Ivins. In 2008, when Ivins learned he was to be indicted, he committed suicide, taking with him any knowledge he might have had of the attacks.
After Ivins' suicide, the FBI closed the investigation, convinced that the scientist, who was known to have mental issues, acted alone.
There have been subsequent calls to reopen the investigation by those who believe that Ivins may have worked with others or was not the culprit at all, but the case remains closed.