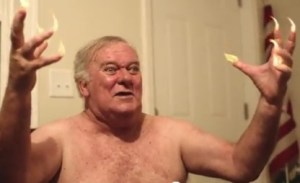 Kids writer and general LES darling Harmony Korine has made a video for Proenza Schouler that feature two hipster Indian women being seduced by a self-described "good 'ole boy" with crooked eyes and birthday candle fingers.
The women wear masks similar to the ones seen in Mr. Korine's Trash Humpers, which recently screened a few weeks ago at Ramiken Crucible. There's also a creepy narration.
Sorry for the delay, here it is!