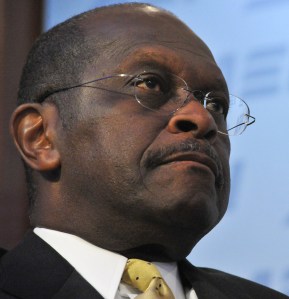 This morning, Herman Cain appeared at the American Enterprise Institute in Washington, D.C. to discuss his favorite topic; his "9-9-9" tax plan. Though the conversation focused on fiscal issues, it was impossible to entirely avoid the elephant in the room–allegations which surfaced in Politico Sunday that Mr. Cain made inappropriate advances toward two women while head of the National Restaurant Association in the late 90's.
Mr. Cain began the conversation by discussing the origins of the "9-9-9 Plan," which calls for replacing the current tax code with a nine percent business flat tax, nine percent individual tax and nine percent national sales tax. He said he came up with 9-9-9 with the help of his "co-architect" Rich Lowrie, because he wanted to keep it simple and come up with a plan that would appeal to both supporters of a flat tax and a fair tax.
"We had several objectives in mind. First, we wanted it to be simple, because if the American people understand it, they will demand it. … Secondly, I've been working on tax reform and tax replacement for decades. … The people who have supported flat tax for a long, long time feel very strongly about it. The people who supported the fair tax for a long time feel very strongly about it. So, one of the objectives was, let's get both of these groups to the table. … Therefore, the nine percent flat tax on personal income brought the flat tax people to the table, the nine percent on retail sales brought the fair tax people to the table," Mr. Cain said.
Mr. Cain said the simplicity of "9-9-9" makes it transparent, fair and efficient since it gives all citizens the same tax rate and would cut government costs by streamlining tax procedures.
"We wanted it to be transparent, which it is–"9-9-9," there are no other nines. We don't have any hidden nines. We wanted it to be efficient. We spend collectively $430 billion a year filing and complying, that money doesn't have to be spent. And we wanted it to be transparent. … And we wanted it to be fair, fair according to Webster's dictionary, not Washington, which is everybody gets treated the same. What a novel idea! So, those were the guiding principles that went into it," Mr. Cain said.
Mr. Cain addressed some of the criticisms that have been leveled against his plan. He said "9-9-9" would not hurt Americans who are struggling, because poor people will be exempt from the income tax.
"Those at or below poverty, the middle nine is zero," Mr. Cain said.
He also believes the plan would be good for the middle class.
"Most people in the middle class, with "9-9-9″ will be better off and the only thing I can say, is people have to do the numbers to see that," Mr. Cain said.
Mr. Cain thinks his Republican opponents have criticized his plan because they're jealous of it.
"When you have the best plan on the table, expect to be attacked. In the last debate, I didn't expect the bullseye to be that big, but it was pretty big. … They were scrambling. How do you come back and counter "9-9-9?" Mr. Cain said.
Before the audience q&a portion of the event, the moderator attempted to cut off potential questions about the allegations of inappropriate conduct against Mr. Cain.
"First, I'd like to remind everybody that at AEI when we have questions from the floor at an event like this, then the questions need to be about the topic at hand. And Mr. Cain is gonna be at the National Press Club later in the day, where if you have some topic that's unrelated to fiscal policy that you'd like to ask him about you can probably do that," the moderator said.
"I'll take all of the arrows later ," Mr. Cain added.
That didn't stop Jon Karl of ABC News from trying to ask Mr. Cain about the scandal.
"As you're well aware, there's a big cloud right now that is affecting your ability to get this out, which is this story in Politico, and I was just wondering if you can clear it up right now," Mr. Karl said before his mic was taken away.
Mr. Karl tried to continue asking his question without the microphone, but the moderator cut him off.
"That question is inconsistent with the ground rules we have," the moderator said.
"I'm going by the ground rules that my hosts have set," Mr. Cain said.
Prior to leaving, Mr. Cain made a final statement to the crowd.
I'll say one last thing. By the way folks, yes, I am an unconventional candidate. And yes, I do have a sense of humor and some people have a problem with that, but to quote my Chief of Staff and all of the people that I've talked to around this country, "Herman be Herman, and Herman is gonna stay Herman. Thank you very much," he said.
According to Yahoo News political reporter Chris Moody, after the event ended, AEI staff kept reporters in their seats preventing them from asking further questions.