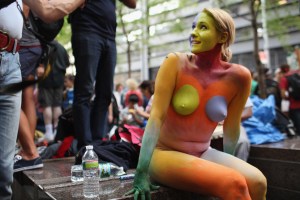 The Democratic Congressional Campaign Committee sent out an email this afternoon asking supporters to sign a petition backing the Occupy Wall Street protests in Lower Manhattan.
"Protestors are assembling in New York and around the country to let billionaires, big oil and big bankers know that we're not going to let the richest 1% force draconian economic policies and massive cuts to crucial programs on Main Street Americans," the group, the campaign arm of House Democrats, wrote.
The email also contrasts the message about the protests coming from the likes of House Majority Leader Eric Cantor who called the protests  "a growing mob" with the message from House Minority Leader Nancy Pelosi who said, "The message of the American people is that no longer will the recklessness of some on Wall Street cause massive joblessness on Main Street."
"Send a message straight to Eric Cantor, Speaker Boehner, and the rest of reckless Republican leadership in Congress," the online request states. "Sign our petition right now and help us reach 100,000 strong standing with Occupy Wall Street protestors across the country."
The email represents the first time that a mainstream Democratic organization has attempted to use (some would say co-opt) the protests for their own electoral purposes, and comes as some Republicans are accusing the protesters as being paid emissaries from the Democratic Party.