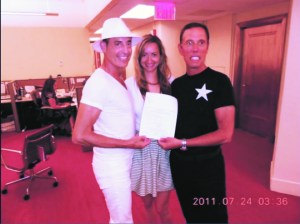 "I just want you to know you've won the lottery," an unfamiliar voice announced when interior designer Kenneth Alpert answered his phone one afternoon this past July.
And indeed he had.
Mr. Alpert, who counts Mary Tyler Moore, Camille Grammer, Kelly Rippa and Mark Consuelos as clients, and his partner of eight years, Michael Stern, who founded his own a high-profile event production company before becoming creative director of the real estate management firm Stonehenge and a yoga instructor, were among 400 couples selected by the city's Marriage Bureau to get hitched in Manhattan on July 24, the first day it was legal.
Just a few weeks ago, they were also the first gay couple to hold their wedding celebration party at the swanky 583 Park Avenue, the soaring space designed by Delano and Aldrich, which opened at the height of the Jazz Age.
I know this because I was present for both occasions. Minutes after meeting Kenneth and Michael for the first time at the City Clerk's office that momentous midsummer day, I officiated their marriage.
The week prior, I had been ordained as a Minister of American Marriage Ministries (A.M.M.), a process that required no special knowledge of the Psalms, nor any particular ability to counsel romantic pairs on how to steer clear of the rocky shoals of matrimonial enmity. All I had to do was click a few buttons online and pay $54.04. The documents were shipped overnight. Once I received my Certificate of Ordinance, a copy of the church's Articles of Incorporation and a notarized letter confirming my position within A.M.M., I registered with the city clerk, an hour-long undertaking that set me back another $15, and earned me an I.D. number: 1427884.
On my second trip to the city clerk's office—this time with my good friend and co-conspirator, Skip—I planned to paper the surrounding area with fliers. "Mélanie Berliet wants to marry YOU!" they read, wording I only later realized might be interpreted as a desperate plea for a husband—or a wife, for that matter.
As Skip and I approached the marriage bureau, we encountered an assortment of onlookers. Behind a line of police barricades, a contingent of rainbow flag–wrapped, glitter-cheeked supporters of L.G.B.T. rights burst into cheers whenever a pair of newlyweds exited the building. A collection of fanny pack-equipped tourists gawked and snapped photos. A twosome whose look harkened back to Sonny and Cher's heyday were on hand, strumming guitars. There were protesters reciting Bible verses and warning of the dire consequences for mankind, should gays be allowed to marry. And, to my dismay, there were a number of other eager officiants. The competition.
But many of them, I quickly realized, were in it for the money—charging up to $60 per service. I had an edge, then. I was doing it purely for the glory.
Buoyed by good spirits in spite of the humid 80-degree weather, we set out to work the crowd.
Several failed pitches later, two things became clear: (1) as cheerful as some New Yorkers can appear, most are too smug to accept a flyer from a stranger, and (2) the people congregating outside the city clerk's office were mostly spectators.
"We have to get inside," I said.
We devised a plan. Wearing our best lovey-dovey grins, Skip and I walked up to the building's entrance hand in hand. The security guard manning the door stared back at us as if waiting for the punch line.
"Can't straight people get married today too?" I asked the guard plaintively.
Expression askew, the uniform replied, "Pass through the x-ray machine and join the others in line."
Soon enough, Skip and I were in, standing amid the throng of nuptial-hungry couples populating an atrium sparse on seating though abundant with vitrines housing sample bouquets. We sensed we were the only straight couple in the vicinity.
It was a short-lived romance. After surveying the scene, we agreed that we'd draw less attention by separating and posing as stray marital witnesses.
Within half an hour, I distributed about 30 fliers. Feeling relatively good about the chances I'd be asked to officiate an upcoming ceremony, I sought out Skip to suggest we head out.
Suddenly, there was a gentle poke at my shoulder.
Before me stood a dapper man dressed all in white, his sneakers as virginal as his jeans, T-shirt and fedora.
This was Michael. He explained that he and Kenneth wanted me to marry them, and that the ceremony would be held any minute.
"What, now?" I asked with a laugh.
"Yup!" he said.
I hadn't considered the possibility of being called upon right then, so I had not yet researched exactly what an officiant does or says. I wracked my brain, trying to recall scenes from various romantic comedies, but only disastrous weddings came to mind. Regardless, I didn't want to miss an opportunity, so I played it cool. "Great!" I said.
Michael then escorted me over to meet Ken, who was equally fit and handsome but was dressed in all black.
Ken looked from Michael to me with squinted eyes that said: I hope you remembered to ask this girl for credentials. I sensed that Ken is the more serious yin to Michael's carefree, outgoing yang.
I whipped out my Certificate of Marriage Officiant Registration.
"See?" Michael said. "She's legit."
"So, why do you want to do this?" Ken asked.
A fair question. I took a moment to reflect.
"Gay family member, maybe?" he prodded.
I shook my head. That wasn't it.