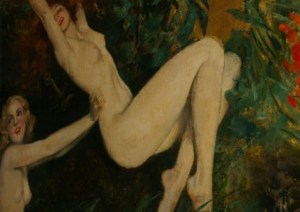 As we continue to mourn the end of Sam Sifton's tenure as New York Times dining critic over here at the Gallerist office, we were pleased to see that Artforum has entered the restaurant reviewing game, with artist Ken Okiishi penning a superb article in the November issue of the magazine on the Upper West Side's Leopard at Des Artistes, the new Italian restaurant housed in the former home of Café des Artistes, which ran from 1917 through 2009.
Mr. Sifton, you may recall, spotted a bevy of art world elites during his visits to the Leopard: Museum of Modern Art director Glenn Lowry and Whitney director Adam Weinberg were dining together, not far from former New Jersey governor Jon Corzine. Metropolitan Museum of Art vice president Harold Holzer was in attendance, as well as Sotheby's auctioneer Jamie Niven. He awarded it a solid two stars.
Mr. Okiishi finds less to like in the restaurant, though he does praise its iconic Howard Chandler Christy murals as "[c]risp, clean, flawlessly buffed kitsch." In slamming the restaurant, the artist breaks not only with Mr. Sifton, but also The New Yorker's Lizzie Widdicombe, who, by thrilling coincidence, also happened to review the restaurant this week.
"It's worth a trip just to sit at one of the candle-lit tables, sipping a goblet of Tintore and watching the tastefully blinged-out clientele file past," Ms. Widdicombe writes. "It's the kind of convivial, unpretentious place that, in the end, is practically un-hatable."
Apparently she has not met Mr. Okiishi.
"The overwhelming design nonidentity of the new interior surrounding the murals stages a disjunction in eras that wobbles between novelty and lifelessness," Mr. Okiishi declares, and he reports that his dining companion told him, "You could also say the place looks a bit like a pizza parlor trying to be fancy." Mr. Sifton, on the other hand, was a fan, and declared the Leopard "an airy and cheerful southern Italian clubhouse."
The food also provokes disagreements. While Mr. Okiishi's partner's grilled chicken is "acceptable though unremarkable," his porchetta "is shockingly dry" and its gravy "almost instantly develops a gloppy, gelatinous crust." The restaurant, he says, is in "competition with the late grandes dames of spooky cuisine."
Mr. Sifton had championed the offerings as "a testament to the rustic joys of Sardinia and Sicily: simple food, apparently simply prepared." Ms. Widdicombe falls somewhere in between the two gentlemen, arguing that, unlike many restaurants of the Leopard's ilk, "the food … is far from an afterthought." She orders carefully and finds a lot to like: pasta alla Norma, trofie and dorado, among them.
Mr. Okiishi's review is not yet online, but it is worth a read for the rich history he offers of the restaurant, which involves Marcel Duchamp; his panegyric to the city's aging restaurants, which feature "freaky food and forgotten décor"; and for his rightful slamming of "the endless feedback loops of social media" that guide our dining habits these days.
At the risk of sounding too boosterish (that has not stopped us before), we would like to lobby for a restaurant review column in Artforum, and nominate Mr. Okiishi for the role, since he is clearly a natural. For more of Mr. Okiishi's restaurant criticism, pick up the Dec. 2010 Artforum, in which he highlighted the closing of Upper East Side haunt Gino as one of the best events of the year. "Tradition chokes reality, and now we can move on," he wrote at the time. "Thank God."
If you would prefer to see some of Mr. Okiishi's art, you can watch his very beautiful film (Goodbye to) Manhattan (2010), which screened at Alex Zachary in 2010, over on Ubuweb.