Daniel Goldstein spent years opposing Bruce Ratner's outside Atlantic Yards development in his backyard—and on top of his house—until he finally gave in and made an even $3 million on the deal. He has since used that money to buy an $812,000 rowhouse in the South Slope, which was purchased in May, according to property records. (Some deal, a wife and a new house, and all it took was years of strife and threat of eviction.)
Like so many other homeowners in the city, Mr. Golodstein is planning a rooftop and rear-yard addition to his new home. In what might be construed as an ironic twist–the Daily News certainly sees it that way—Mr. Goldstein's new neighbors do not appreciate his home-improvement project.
It's NIMBY versus NIMBY.
Next-door neighbor Kathryn Roake, 59, says Goldstein's 18-foot, three-story addition to the back of his building will block the light to her beloved fruit and vegetable garden.
"I was so horrified," said Roake, who has lived in her 15th St. home for 21 years. "It's going to block all the sunlight to my garden and the back of my house.

"That was the whole reason why we bought , was I wanted a garden," said Roake, who grows rhubarb, blackberries, and currants, and keeps bees. "It's going to wreck the garden."
The News was unable to get a comment from Mr. Goldstein, but we were, and the story The Observer was told was quite different. (Granted, we were unable to reach Ms. Roake.)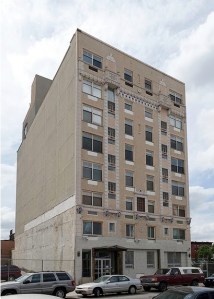 He told us that he reached out to the neighbors first, but they did not respond and instead, apparently, went to the tab. Mr. Goldstein has plenty of experience with adjudicating matters in the press, and while he would rather deal with these issues directly, they are out there, so what choice does he have. He also wondered at how the dimensions of his expansion could be known when they are not even complete, and whatever they are, they will be code compliant:
Our plans aren't finalized, but when they are they'll be submitted to DOB as required when doing a renovation and extension. Once our plans are approved our construction will be safe, well within zoning and within the law, and we'll be certain to protect our neighbors' property and our own.
He also pointed us to Norman Oder's response to the News article, where the incomparable Atlantic Yards watchdog showed how there are no similarities between what Mr. Goldstein is attempting and what Mr. Ratner has done:
Atlantic Yards is just a few orders of magnitude larger than Goldstein's 3-story extension. It required a state override of zoning, eminent domain, and significant subsidies and tax breaks. And a study of the environmental impacts indicated that it would, in fact, block the sun in certain locations. But the headline and caption embrace the strained parallel.
Indeed, these sorts of additions happen all the time, from Uptown to the Village to Brownstone Brooklyn. The storyline was simply too juicy this time out. As Mr. Oder cleverly puts it, "the Daily News elevated a garden-variety dispute into a tabloid story."
Perhaps it is all part of a plot by Bruce Ratner to get revenge? "No, they are not opposing me because of my views about AY," Mr. Goldstein told us. "I'm quite sure they have no interest in the Nets."