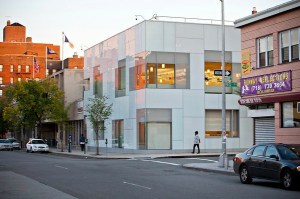 Perhaps the only thing more eagerly awaited in the city's architectural firmament than Michael Kimmelman's first column as The Times's new architecture critic was his second. We knew he would come out keyboard blazing, but could he keep up the act as heir to Ada Louise Huxtables throne? The answer is an assured yes, which may finally put to rest all the angst about Mr. Kimmelman's appointment and his lack of formal architectural training. We get not a dissection of a particular building, or even architecture in general but, as a fellow Timesman once put it, The Way We Live Now.
Mr. Kimmelman stops by the new Discovery Center, designed by 1100 Architects and Lee H. Skolnik, at the Queens Central Library, where he finds "business as usual." Which is of course anything but business as usual these day, and this is where he delivers his critique of the modern library—a well-worn architectural genre by now, but still one handled deftly and perceptively.
Today libraries double as centers for the elderly and toddler playrooms. They're safe after-school havens for teenagers of working parents, with rooms set aside that are stocked with computers and, at a few branches, like the Rockaways, even with recording studios.

Libraries have also learned from retailers like Starbucks and Barnes & Noble about what people expect when they leave their homes to go someplace public to sit and read. Libraries have become modern town squares and gathering places; they offer millions of New Yorkers employment counseling, English-language classes and, crucially, Internet access. Quiet rooms, like those Carnegie built, tend to be smaller and set aside these days, almost like smoking sections in airports.

Is that a bad thing? Times change. Research libraries still survive. To imagine that libraries could remain as they were half a century ago would entail wishing away the Web and the demands of old people, immigrants, the unemployed, schoolchildren and parents who want constructive places to keep their young children occupied at a time when public resources and political good will are in increasingly short supply.
Yet the real triumph of this review is that it shifts from the library to public architecture as a whole, particularly the work undertaken by David Burney, the commissioner of the Department of Design and Construction who took over in 2004 and was charged with transforming the agency and the city's buildings, as well. (You can see some of that exemplary work here.) Mr. Kimmelman spells out the value of such work clearly.
The New York program reaches out to good architects, guaranteeing them market-rate fees. It sets aside money for projects — under $10 million at first, and now $15 million — for small firms, to encourage fresh ideas and young talent in the city. Crucially, it appoints project managers whose sole task is safeguarding design through construction when "the risk," as Mr. Burney put it, "is that because budgets and schedules can be quantified, but design can't, design is always the first place people look to cut."

Mr. Skolnick echoed that thought the other day. "Those of us who went into architecture to do some public good felt that if you didn't go into the public realm, you weren't doing your job," he said. "But for years you were hesitant to take on projects with the city because you knew there would be trouble. With David, it's all changed now."

It's changing, certainly. At the corner of Mulberry and Jersey streets in SoHo, I stopped in at the Mulberry Street Branch Library, another public library that opened a few years back. It fills a storefront and two floors below ground in a former chocolate factory. On a tight budget of about $7 million, Rogers Marvel Architects, the firm hired by the New York Public Library and overseen by Mr. Burney's department, restored the building's old cast-iron columns, masonry walls and timber beams, and inserted a stairwell to bring daylight and at least a partial view of the street to the subterranean levels. Separate areas were carved out downstairs for teenagers and for toddlers, and a reading room with a tall ceiling was devoted to adults who want peace and quiet.
Not only do we get two reviews for the price of one, just as last time, we are looking at the work of very good if far from famous architects doing remarkable work right here at home—not starchitects toiling away on the other side of the planet, cooking up schemes that may well never get built. Instead we get a video tour of the South Bronx with another city commissioner, Amanda Burden.
This local focus is somewhat surprising to see, given the national and international drift of the Gray Lady. It was not that long ago that Mr. Kimmelman was writing a column called "Abroad," dealing with artistic matters in Europe. Now, here he is, plying local waters, reminding the world this is still the place to be and build.
It might even be the case that because Mr. Kimmelman does not have that vaunted M.Arch degree, he does not spend too much time plying the depths of a building's details and instead focuses on how they are actually used, how they are lived.
Thanks to Mr. Burney, there may now be enough buildings in New York worth writing about, and now we have someone prepared to write about them. Welcome to the Kimmelman era.