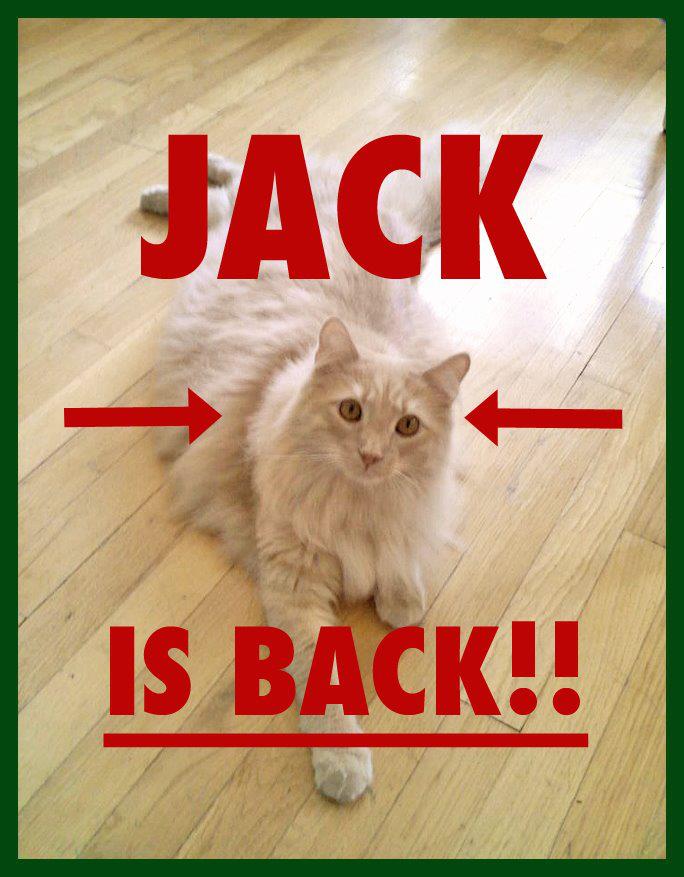 It's an airport miracle! Jack the Cat, who went missing during baggage handling by American Airlines two months ago, has been found alive.
Search parties were organized via Facebook and American Airlines papered JFK with missing cat fliers; but the chances of finding the cat had started to look slim. "The chances of Jack surviving or being returned readily get minimized each and every day," one former communications representative for United Airlines told The Observer last week. "It's a very dangerous place, an airport. Lot of moving parts and moving vehicles and moving machinery."
And yet somehow Jack managed to avoid them all. "American Airlines is delighted to announce that Jack The Cat has been found safe and well at JFK airport," American Airlines said in a press release said this morning.
Further:
American's team of airport employees have been focused on the search effort since Jack escaped on August 25th, 2011. Jack was found in the customs room. He was immediately taken by the AA team to the airport vet service, VetPort, where a microchip confirmed that the cat was Jack. VetPort has advised Jack is healthy, safe and well.

American's priority was advising Jack's owner, Ms. Pascoe, which occurred immediately after being identified. We are delighted to advise all other Friends of Jack of this wonderful news immediately after. American will fly Jack to California to be reunited with Ms Pascoe.

The ongoing search efforts to locate Jack have included many employees at the airport who have remained vigilant in their search, and committed in their desire to find Jack. We thank the friends of Jack for their ongoing search efforts outside the JFK perimeter and share everyone's relief that he has been found.
Jack was bedraggled and had lost weight, Facebook commenters reported, but appeared fine. "Bonnie and Angela saw Jack for a moment last night but were not allowed to take pictures. They report he looks tired but bright-eyed and dirty. He's in kitty ICU on fluids, and we'll report more as we find it out," an administrator for the page posted. As of this morning, ABC News, 1010 WINS, NBC News and MSNBC had reportedly requested information and interviews.