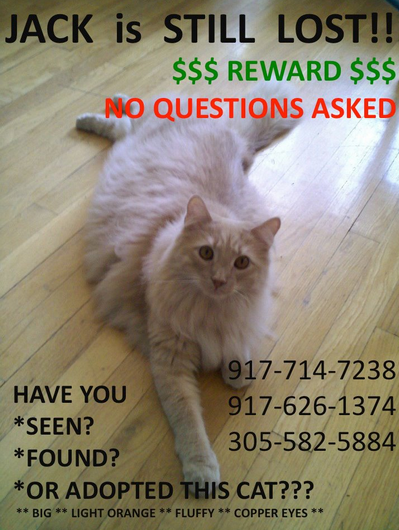 A cat named Jack who was misplaced by American Airlines baggage handler in August has yet to be found, causing supportive cat fans to organize via Facebook. The "Adopt-A-State" campaign helps friends of Jack generate local awareness via "a list of resources to contact to remind them about Jack, of rescues to make sure they don't have Jack, and other quick things you can do online!!"
Saturday was "Jack Awareness Day," during which a "small group" came out to JFK to hunt for the missing feline. 
A second Jack Awareness Day is scheduled for this upcoming Saturday, starting at 4 p.m. "That will allow us to look for Jack at dusk AND hit the evening shift of workers to up their awareness," says the Facebook group. "If you're in the area or if you want to make a road trip, plan to join us at 4p next Saturday, October 22… we'll meet by the JFK VetPort and go from there!!! GO TEAM JACK!!!"
"A report was just released that states that an employee dropped Jack's crate," a supporter identifying herself as "a friend of the page which is now 15000+ strong" wrote to The Observer. "AA is not helping in the search for Jack and there is places the searchers need to go to and they can't get security clearance."
The supporters refer to themselves as FoJs–"friends of Jack."
The owner of the cat, Karen Pescoe, is reportedly considering legal action but has opted to keep her decision private.  She has not publicly commented on the Facebook page, but other FoJs are in contact with her.
From Tuesday:
Dear FoJs – I am sooooooo very frustrated. I am frustrated that American Airlines clearly doesn't give a crap about the implications of its carelessness. I am frustrated that we can't get into most of the gazillion places where Jack might be in the small city that is JFK. I am frustrated that there is nothing we can systematically do to search for Jack, and that we must rely on others to see him so we can search that area. And I am also VERY frustrated that people think Karen or I have "distanced" ourselves, that we're not involved, or that we've given up. NO ONE HAS GIVEN UP.
The most recent update by American Airlines was on Sept. 9:
Since our last update this past Friday, our employees have continued the search for Jack at JFK over the weekend and into this week.  We are all concerned with Jack's well-being and our employees have been doing everything they can to locate him.  This past weekend we also issued a pet Amber alert that we hope furthers awareness about Jack.  This broadens our search beyond the airport grounds in the event he has made his way into the community surrounding the airport.

We continue to place food and water around the airport and monitor for signs of Jack.