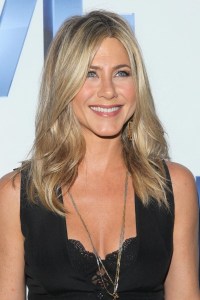 Is Jennifer Aniston the latest star headed to Gramercy Park? The actress was seen checking out an $8.7 apartment at 50 Gramercy Park North, the New York Post reported. Ms. Aniston is, of course, no stranger to New York City real estate. This spring she snatched up three units at 299 West 12th Street, curiously purchasing under dog's name.
Now, it appears, she has her eyes set on Gramercy, as the omnipresent paparazzi have evidently made the West Village uninhabitable, the Post claims. Ms. Aniston is known to be fickle in her real estate dealings, however, and may not have settled just yet. Over the years she's checked out places at Madison Square, near NYU in the Village, and even the Financial District.
But what exactly is Ms. Aniston looking for in an apartment? Well if the place she checked out at 50 Gramercy Park North gives any indication, the actress is probably on the hunt for a three-bedroom, 3.5-bath place with amenities like "incredible natural light, gorgeous hardwood floors, a wood burning fireplace, and sumptuous spa-like bathrooms."
If she does decide to roost at the prospective Gramercy digs, however, Ms. Aniston will receive a highly coveted key to the exclusive Gramercy Park. She can enjoy the paparazzi free foliage with neighbors Uncle Karl (although he may not be there much longer) and Jim Parsons.
eknutsen@observer.com