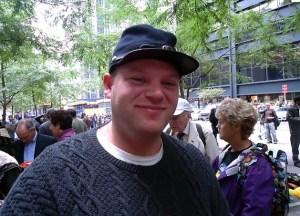 When Fox News turned their cameras on the 31-year-old Daily Kos writer Jesse LaGreca last Wednesday, they didn't know what they were in for. Not only did Fox producer Griff Jenkins get schooled all over the Internet —  forcing Greta Van Susteren to respond on why they didn't air the footage of Mr. LaGreca's statements  — but suddenly the somewhat haphazard movement was given a clear and distinct voice.
"Fox News wants to laugh at us," Mr. LaGreca told us in a phone interview Tuesday evening. "To say that we're unruly, that we're to be laughed at….because that fits into their narrative, which is that only free markets can save us. Only unregulated capitalism can save us. And anyone in opposition to that needs to be attacked and marginalized.'"
Mr. LaGreca certainly does not fit into the media's stereotype of the obtusely disenfranchised ne0-hippies that have been camping out at Zuccotti Park. He's been a freelance writer for the Daily Kos under the name MinistryOfTruth for the last three years and is one of their most frequent writers and commenters. He's a member of various subgroups on the site, including their Anonymous forum, Environmental Foodies, and the Progressive Policy Zone. Mr. LaGreca is no East Coast liberal either: though he currently resides in New York, it's only been for a month. His previous homes were in Colorado and Illinois. He does not (as far as we know) have health insurance. He is subsidized for his writing mostly by a Paypal link he set up on his articles. He is articulate, with framed arguments that have obviously been rehearsed in advanced. Not only is he the face of "The Budding Stars of Occupy Wall Street," according to the Atlantic Wire, but his presence is large enough to inspire its own legion of fans. (We noticed that he had a larger Twitter following than our personal account.) Basically: Mr. LaGreca is Fox News' worst nightmare.
"Their first question was whether we were inspired by Greece," said Mr. LaGreca, referencing the the way the network would lead protesters to inflammatory answers, "Which had a couple of incidents of student violence…It's a running meme in the right wing media: that if we don't do something about our economy we're going to end up like Greece. But the only thing we can do is what Fox News has been showing us since the day Obama was inaugurated."
Mr. LaGreca is not, like the media has portrayed some of the protesters, a brainwashed Obama-ite. His Daily Kos article from August is a scathing critique of Obama's nomination of Sen. Mike Lee's general counsel for U.S. Attorney of Utah.
When asked if he would be willing to go on Fox News and finally get to tell his side of the story, Mr. LaGreca surprisingly demurred. "I don't want to go on with anyone who has a history of misconstruing people's statements. There's certain networks that I have an obvious bias against. But there are people like Keith Olbermann, Dylan Ratigan…Jim Axelrod, who was a total gentleman. I'm willing to give anyone a fair shake. I'm willing to talk."
Despite being a very vocal member down at Zuccotti Park, Mr. LaGreca denies speaking for the Occupy Wall Street movement. "I'm not a spokesperson for anyone but myself," he tells us.
Okay, but does he have any advice for those watching the watchmen; i.e. protesters on the lookout for cherry-picking media reporters?
"One: be camera ready. Have your camera on you so if there is a media slant, you can capture it. Two: have a coherent message. Tell people exactly why you are here…not what other people are doing. The overarching theme here is that people are being screwed, but that can't be summed up in a soundbite-ready statement. However if you tell the media your personal story, it's the most touching, the most effective way to communicating to people why they should be here as well."