Lucy Koteen, the former head of the Central Brooklyn Independent Democrats, co-hosted a fundraiser for John Liu in Park Slope in July, and in an interview today she said that Mr. Liu's campaign team  were "scrupulous" in making sure that all of the money raised was in compliance with Campaign Finance Board regulations.
"They went over every check and every contribution form and returned anything that wasn't filled out properly," Ms. Koteen said.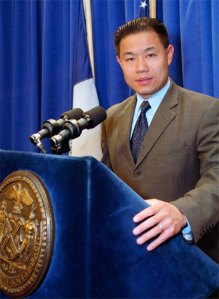 This morning The New York Times had a bombshell of a story detailing how dozens of Mr. Liu's donors appear to be straw men for their employers.
Ms. Koteen said she saw darker forces at her work in the story, and suggested that the piece was retribution by the Bloomberg administration for Mr. Liu's criticisms of them.
"I am suspicious that Bloomberg had a hand in this because of Liu's auditing his projects," she said. "I do believe Bloomberg has a lot of influence over reporters.
"We know that Bloomberg is a vindictive guy, right?" she said. "That's pretty well understood. It's payback and we [supporters of Mr. Liu's] also  believe that Bloomberg is supporting Quinn and we believe that Liu is a very plausible threat."
Mr. Liu is slated to appear on "Inside City Hall" on New York1 tonight, and will likely address the charges raised in the article then.