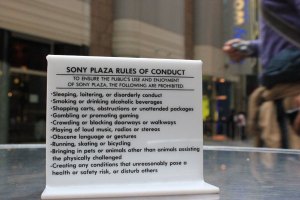 In addition to Zuccotti Park, the Occupy Wall Street demonstrators have taken over the Brooklyn Bridge, Park Avenue, Washington Square Park, Times Square, the local McDonald's, and tonight they march on Lincoln Center. Fearing new encampments in the plazas outside of their Midtown towers, the already-occupied Brookfield Properties (BPYPP), as well as the august Rudin Management and the corporate godheads at Sony, have begun putting out new signs forbidding a litany of activities, according to The Times.
As The Observer previously reported, the Department of City Planning, which regulates these publicly owned private spaces, is O.K. with landlords tweaking the rules of their POPS, so long as it does not impact access to them. There are specific regulations as to how big signs can be, and historically they have been free from much in the way of prohibitions. This is because the city actually forbade developers from listing illegal activity on the signs—something that says "no drug dealing" tends to suggest such illicit activity was taking place there in the first place.
Here's what The Times stumbled on this afternoon:
The signs are identical to the one posted at Zuccotti Park downtown, shortly after Occupy Wall Street began. They are posted at Grace Plaza, next to the W. R. Grace Building at 43rd Street and Avenue of the Americas, which is owned by Brookfield; and the plazas attached to 40 East 52nd Street and 345 Park Avenue, both buildings that are controlled by Rudin Management Company, a real estate firm.

The signs at the Rudin properties are printed on laminated paper taped to the wall, while the one at Grace Plaza is a metal placard like the one at Zuccotti Park.
Meanwhile, over at The Nation, the most adorable warnings were found at the Sony Building.
Since the signs were inaugurated in the 1970s, in a very different New York, expect to see more of them starting to change. The Big Real Estate lobby is certainly in favor of reigning things in as a result of Occupy Wall Street. Whether the demonstrators, or any other New Yorkers, take note and fight back, well, that's a whole other protest.