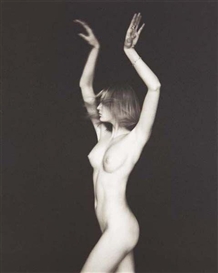 "Gallery one is closing!" announced a disembodied male voice over the speakers at Sotheby's "Take Home a Nude" auction event last night, which featured mostly nude subject matter and benefited the New York Academy of Art.
The man sounded like a carnival barker, an image enhanced by the fact that, as he spoke, women on stilts waddled through the galleries, carrying signs that said which portion of the silent auction would soon close. The lots were organized into partitioned galleries, and as they closed the art was taken off the walls, and the people scrunched closer as they mingled in the fewer remaining galleries. The women on stilts wore tan body suits that went down over the stilts, and hats right out of the go-go '90s, the part fueled by Ecstasy.
"Make sure you head to gallery one to get your nude," boomed the speaker. "Take home a nude, dude!"
After securing a tequila concoction, we soon bumped into New York Times writer Bill Keller and his wife Emma. Would they be taking home a nude?
"Ask in about a minute!" Mr. Keller said. "It's not a nude, though, it's a landscape."
"A landscape," emphasized Ms. Keller, with mock severity. "We're too classy for nudes."
It was a touchy subject with some in attendance, and a not-so-touchy subject with others. Chef Marcus Samuelsson said that he owns a good deal of art and that this evening he was in a bidding war with Padma Lakshmi, over a nude piece on the other side of the room.
"When I was growing up, the one thing we had at home was art," Mr. Samuelsson said. "We had music, food and art. We didn't have a fancy car, but we had the Bang & Olufsen sound system. My mom was like, 'No, no, no, we have to have good music.' It's an aspirational lifestyle."
And what percentage of his current collection, we asked, was nude? "Not a lot."
Bob Colacello was remarkably helpful with our goofy question.
"Do I own much nude art?" he said. "I'm trying to think, I own a lot of things. I have a lot of Chris Makos nudes and semi-nudes, shirtless beauties from the '70s," he chuckled.
"We discovered Chris at Interview magazine, so those were Christmas presents. And I have a friend named Martin Saar a young Estonian artists. I have some nudes of his which are watercolors of females," he cocked an eyebrow, "I hasten to add."
It was crowded enough that we literally bumped into the artist Dustin Yellin, and eventually asked him how his statue was doing, bid-wise. "I don't know," he shrugged. (Eventually it sold to socialite Fabiola Beracasa).
Just then an Olsen approached and hugged Mr. Yellin, kissing him on both cheeks. She wore a swooping, black, vaguely Chinese robe with fur. Our saying it was an Olsen is not affectation, it was one of the twin sisters and we don't know which one it was. It's not on Patrick McMullan.
"Hey darling," said the Olsen. "What's going on?"
"I have a little piece right there," said Mr. Yellin. "Check it out, it's cool. You'd better come by sometime and see my new shit."
"Yeah," said the Olsen, floating off in that direction.
"Is she going to bid on your stuff?" we asked Mr. Yellin when she'd left.
"I don't know," he said. We suggested that he should have gone in for the hard sell.
"No, no, I don't do that," said Mr. Yellin. "I do the mellow sell."