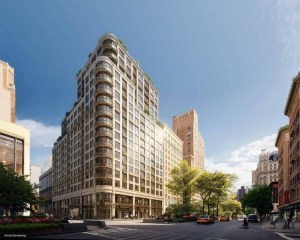 Is The Laureate New York's new It building? After a series of pricey sales over the summer, it yet another blockbuster sale has just closed in the building, for one of the massive penthouses.
One of the two top-floor penthouses—there are, inexplicably, at least six "penthouses" in the building—sold last month, according to city records. The developer asked $13 million for the place and ultimately fell just short: the 3,558-square-foot condo sold for $12.5 million, a new record for the building.
According to a listing from Shlomi Reuveni of Brown Harris Stevens Select, the new owners will be living in the lap of newly developed luxury. The unit, one of several penthouses on sale in the building, is on the 20th floor and features Hudson River views.
Although Mr. Reuveni claims that "The large entrance gallery sets the tone for the home," The Observer begs to differ. How about the 1,964-square-foot roof deck which comes complete with a jacuzzi? It bespeaks quite a different tone than even the loftiest of galleries. (That said, the glorified roof, which has no rooms on it beyond the stairwell, is used to sell the space as a duplex, which we are not really buying.)
The five-bedroom, 4.5-bath boasts a 146-square-foot master bedroom with a private balcony. The other four bedrooms are designed with a "serene palette of natural stones and materials," the listing notes.
The listing calls the place a duplex, but The Observer remains dubious as the upper level consists solely of the terrace and hot tub. Unless the new owners are planning on adding a maids quarters to the roof, this unit is a simple simplex, albeit a particularly expansive one.
The buyers are Michael Conboy, a hedge fund manager at Luxor Capital, and his wife Lizbeth.