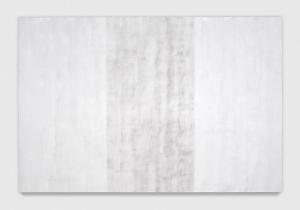 New York's Lehmann Maupin Gallery announced that it is now working with California Minimalist Mary Corse, and that it will host a show of her work at its Chelsea gallery in February. (Lehmann Maupin also has a Lower East Side gallery, on Chrystie Street.)
Ms. Corse, who was born in 1945, was a contemporary of Light and Space artists of the 1960s like Doug Wheeler, Craig Kauffman and Larry Bell, who have been gaining ground in the museum world and art market in recent years. The artist is perhaps best known for her paintings that incorporate microglass or microspheres, tiny pieces of glass that give her works a shimmering luminescence.
Her work is currently included in "Pacific Standard Time: Crosscurrents in L.A. Painting and Sculpture, 1950-1970" at the J. Paul Getty Museum, which focuses on such work, and was also included in "Venice in Venice," a group exhibition of work by artists from Southern California active in the 1960s, which was curated by Tim Nye and Jacqueline Miro in Venice, Italy, in parallel to the Venice Biennale this summer.
Ms. Corse's work is in the collections of the Los Angeles County Museum of Art, the Getty Museum, the Museum of Contemporary Art Los Angeles and the Guggenheim.