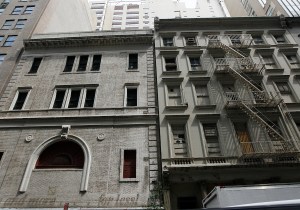 It looks like dreams of a downtown Islamic cultural center could be dashed if Park51 cannot come to an agreement with Con Edison (ED). Dogmatic developer Sharif El-Gamal shares control of the site for the proposed community center with the utility, and Con-Ed now claims Park51 owes $1.7 million in back rent, according to the Post.
Mr. El-Gamal owns the five-story building at 47-49 Park Place, which was almost landmarked last year in an effort to thwart the Islamic-theme project, while Con-Ed controls 51 Park Place, which Mr. El-Gamal rents. He has to keep control of both, otherwise he loses the option to buy the adjacent building, which would cut the site for the cultural center in half.
But the plan hit a major obstacle in August when Con Ed raised the rent from $2,750 a month, a rate set in 1972, to $47,437 a month, retroactive to July 31, 2008.

[…]

After conflicting appraisals of the property by Gamal and Con Ed, it seems both sides came to an agreement this summer.

Court papers show that the appraised price for the Con Ed property is $10.7 million. But Gamal contends Con Ed's math was faulty when it calculated the rent, saying it owes only $881,519 in back rent and should have to pay $25,875 a month going forward.
The dispute is currently in court, but this is not the first time Mr. El-Gamal has had rent trouble. He had to forfeit his Soho offices over back rent, got into trouble with Citibank, was attacked for seeking 9/11 recovery funds and just general bad press. Which begs the question: Is this bad blood for a good project, bad luck or mere mismanagement?