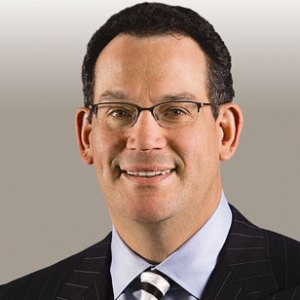 David Simon has built the largest mall empire in the country, with soaring atria and chain stores as far as the eye can see. He would need an equally large and grand home, it would seem, and so he has found one at 625 Park Avenue. Mr. Simon, along with his wife Jackie are the mystery buyers of buyout king David Matlin and wife Lisa's massive 15-room sprawl. The property was listed in Ms. Matlin's name.
According to city records, the Indiana-based couple paid $25 million for the grand home, a good deal considering the place was originally listed for$29.75 million.
The apartment occupies the entire fourth floor of the vaunted Upper East Side co-op. It's easy to see why the the six-bedroom, six-bath place appealed to the Simons: spanning 7,500-square-feet it's almost like a Midwest homestead!
The couple can't quite move into their dream pied-a-tierre, however. As it stands, the apartment is divided in two: 5,000 square feet of pristine, newly renovated space, and another 2,500 square feet that "awaits your personal touch," according to a joint listing from Robert Schulman of Warburg and Joan Swift of Prudential Douglas Elliman. "Completed architectural drawings and plans will assist your seamless integration of the entire floor" the listing adds. Throw in a couple kiosks and a food court and you've got yourself a mini-mall! Auntie Annie's, here we come.
The Observer called Warburg broker Robert Schulman who declined to comment on the listing. When we mentioned the sale, however, Mr. Schulman replied, "Thank God."
Such sentiment is understandable. Although the home only hit the market in April—entering contract in June, StreetEasy shows—selling an eight-figure fixer-upper in this market must have been nerve wracking, to say the least.
eknutsen@observer.com