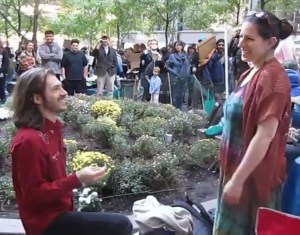 Finally, a love connection is made at Zuccotti Park! Bushwick resident Brian Douglas managed to turn Saturday's protest into his own form of a viral wedding proposal called "Occupy My Heart." See, OWS Craigslisters? Buck up: there's still hope for you yet.


The New York Post first alerted us to this story by burying a couple sentences about it in today's piece "Occupy Eyeing Lincoln Center":
Brian Douglas, 33, of Bushwick, Brooklyn, seized the break in the action to drop to one knee and propose to gal pal Deb Szczepkowski, 32, in front of a crowd of about 50 people in Zuccotti Park.
Using a "mike-check" moment — where the crowd repeats a speaker's statement so everyone can hear — Douglas asked for her hand.
"Using these people that I believe in and love to help me ask you to marry me, I don't know what's going to happen to this movement, but I hope it's half as successful as I know our marriage will be," Douglas said.
He then said — and the crowd repeated — "Will you occupy the rest of my life?"
His girlfriend accepted.
We're pretty sure this is not what you're supposed to use Occupy Wall Street's "Mike Check!" system for, but hey…at least this guy isn't doing one of those flash mob wedding proposals.