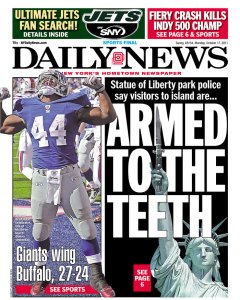 The Daily News parted ways with its longtime senior managing editor, Stuart Marques, on Friday, according to a well-placed tipster.
Mr. Marques was brought in to the News in 2007 by the previous editor, Martin Dunn, a British import and News Corp. veteran. Mr. Marques stuck around much longer than the other managing editor hired by Mr. Dunn, William Goldschlag, who was fired last September, weeks after current editor Kevin Convey's takeover.
"We don't comment on personnel matters," said spokesperson Jennifer Mauer. Mr. Marques did not return a request for comment.
Mr. Marques held a similar position at the rival New York Post until 2001, when he was fired in then-new editor Col Allan's bloodletting. He then did a brief stint at the Daily News national desk, followed by New York Sun and the United Federation of Teachers, before circling back to the News.
Mr. Marques's departure coincides with a new investment in the web at the Daily News, including a new back-end, or content management system.The Daily News and the Post fight tooth and nail for the competitive edge on print circulation (with the News currently leading by a hair), but the News has long outpaced the Post in web traffic. The Daily News has 5.3 million unique visitors a month, compared to the Post's 3.2 million, according to Compete.
Could a more integrated newsroom mean more managerial shake-up? Know more? kstoeffel@observer.com