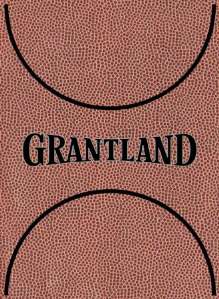 Today Grantland began selling Grantland Quarterly, a print anthology of the best reads from the sports and culture site so far. It is edited by Bill Simmons and Dan Fierman.
ESPN and Grantland have contracted McSweeney's to handle the production and distribution (which, in retrospect, explains why Dave Eggers is a Grantland contributing editor).
As such, the basketball leather-bound books will harbor twee custom moving parts, like posters, a pull-out section, "old-school baseball cards" and mini-booklets. The first volume is available through the McSweeney's store; individual issues cost $19.95 and a year-long subscription (four issues) is $48.
In addition to some of the more memorable Grantland features (Malcolm Gladwell on the NBA lockout and Colson Whitehead on the World Series of Poker, for example), the first volume includes an original column by Mr. Simmons and new fiction from Jess Walter, author of The Financial Lives of Poets.
Grantland Quarterly has always been a part of the ESPN-sponsored website's business plan, according to Mr. Fierman.
"If our site has a problem it's that we move so fast that readers miss stuff," he said. The print journal serves up the site's greatest hits in a medium better suited to long-form journalism. Plus, nostalgia runs rampant among Grantland's roster of magazine writers.
"I miss the feel of print," the former GQ editor told The Observer. "It's good to be back in it."