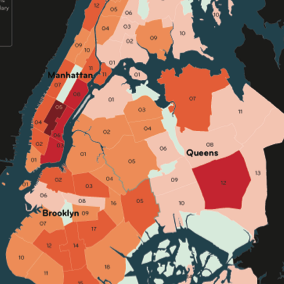 Office workers may want to look both ways before crossing the street on the way home tonight.
Transportation Alternatives released their first "crash map" today, which reveals that, at over 8,500 crashes involving pedestrians from 1995-2009, Midtown is not the place to go for a stroll. The map, based on the civic group's new CrashStat.org interactive index, charts motorist crashes involving pedestrians by community.
In the first crash map report, "Walking in Traffic Violence," Midtown, Jamaica, Queens, and neighborhoods along Manhattan's east side prove to be particularly dangerous, with a total of more than 25,000 crashes involving pedestrians over the past 15 years. The top five most dangerous neighborhoods are:
Midtown Manhattan (Manhattan Community District 5) with 8,604 crashes
Jamaica, Hollis, St. Albans (Queens Community District 12) with 4,741 crashes
Carnegie Hill, Lenox Hill, Roosevelt Island, Upper East Side, and Yorkville (Manhattan Community District 8 ) with 4,694 crashes
Beekman Place, Gramercy Park, Murray Hill, Peter Cooper Village, Stuyvesant Town, Sutton Place, Tudor City, and Turtle Bay (Manhattan Community District 6) with 4,543 crashes
Chinatown, East Village, Lower East Side, NoHo, and Two Bridges (Manhattan Community District 3) with 4,138 crashes
Yikes!
"We've all experienced the epidemic of dangerous driving in New York City," Paul Steely White, executive director of Transportation Alternatives, said in a press release. "Despite the tremendous efforts made by the DOT to redesign streets for safety, behavior behind the wheel puts people in harm's way every day."
If these stats were not scary enough, they also reveal that more people are killed in traffic than murdered by guns in New York City and a New Yorker died in traffic every 35 hours, half of whom were pedestrians.
Mr. White called for a "zero tolerance crackdown on unsafe driving," because many dangerous and lethal drivers (cough cabbies cough) get away with minimal or no charges.