New York Promo Screening October 19, 2011 8 PM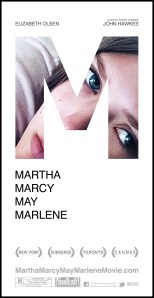 VISIT www.GOFOBO.com and ENTER RSVP CODE: NYOBDZCB
Synopsis
Elizabeth Olsen stars in director Sean Durkin's psychological thriller, MARTHA MARCY MAY MARLENE, about a young woman who undergoes an explosive crisis of identity after escaping the confines of a rural cult-like farming community. Trapped by unsettling flashes of memories from the past and visions of a perilous future, she becomes taken over by an unsettling sense of fear, leaving her consumed by paranoia and a mysterious burden of guilt.
The film, winner of the Best Director Award at this year's Sundance Film Festival and the Cannes Prixde la Jeunesse, begins with Martha (Elizabeth Olsen in her feature film debut) running from an idyllic farmhouse into the woods of Upstate New York. Terrified, and with nowhere to turn, she calls the estranged sister she hasn't seen in years (Sarah Paulson), and suddenly finds herself in a lush, lakeside Connecticut summerhouse with Lucy and her new husband Ted (Hugh Dancy).
Yet, the beauty and comfort of Martha's new surroundings clash with everything she is feeling as a secret fugitive from an unexplainable world, and so long away from society's rules, she is unable to act in a way others find normal.
Martha may have run away, but she still is held captive by memories that slowly, devastatingly, begin to creep up on her.  Seeping into her fledgling new life, revealing all that she has been through, from the innocent desire for familial love that brought her to a secluded farm commune to her chilling relationship with the fatherly but manipulative community leader Patrick (John Hawkes).
Building, until they expose the heart-stopping source of her mounting dread.The result is a closely observed tale of psychological suspense that is also an arresting meditation on identity, vulnerability and the hunger for family in forms both tender and dangerous.
Fox Searchlight presents a Maybach Cunningham, Filmhaven Entertainment and Borderline Films production in association with This Is That, MARTHA MARCY MAY MARLENE, written and directed by Sean Durkin. The producers are Josh Mond, Antonio Campos, Chris Maybach and Patrick Cunningham and the executive producers are Ted Hope, Matthew Palmieri, Saerom Kim, Saemi Kim and Alexander Schepsman.  The cast includes Elizabeth Olson, Christopher Abbot, Brady Corbet, Hugh Dancy, Maria Dizzia, Julia Garner, John Hawkes, Louisa Krause and Sarah Paulson.  The film was shot by Jody Lee Lipes, the editor is Zac Stuart-Pontier, the production designer is Chad Keith, the costume designer is David Tabbert and the music is by Daniel Bensi and Saunder Jurriaans.
MPAA Rating:    Rated R for disturbing violent and sexual content, nudity and language.

http://www.foxsearchlight.com/marthamarcymaymarlene
Winners will be randomly chosen to attend the screening.  Arrive early! Limit one (Admit-two) passes per person while supplies last.  Seating is not guaranteed.  No purchase necessary.