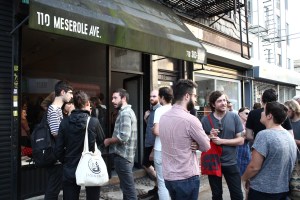 Bridget Donahue and Bridget Finn, two of the four founders of the Greenpoint project space Cleopatra's, were sitting in the window of their storefront on Meserole Avenue one evening last week. An exhibition about the curatorial practice of Lynne Cooke, the former Dia Foundation curator who is now chief curator at Madrid's Museo Reina Sofia, filled the one-room space. Ms. Donahue, 31, was tall and slim, wrapped in a black shawl and scarf, laughing and joking in between coughing fits brought on by the onset of a cold. Ms. Finn, 28, wore glasses so big they magnified her eyes and kept the strands of her black bob of hair out of her face. She gave off a feeling of straight-laced professionalism. The two women both have held several day jobs with galleries and institutions on the upper rungs of the art world. They were talking to The Observer about how Cleopatra's got started.
"I remember saying from the beginning," Ms. Donahue said, "we don't want to do what we have to do at work."
"I was working at Anton Kern gallery," Ms. Finn said. "Bridget Donahue was working at Barbara Gladstone Gallery. We knew of each other but we really hadn't met. We had a friend introduce us and we had a few brief conversations about the art world, what our goals were, what we're doing now, what we'd like to be doing. That's where we left it. Later, I was on my way to meet a friend for lunch, and I saw the painter Andrew Guenther, whose studio used to be in this spot. He used to run a little makeshift gallery. There was a wall that closed off the storefront."
"You can still see," Ms. Donahue said, pointing up to the tin ceiling. There was the ghost of a wooden frame about a foot and a half from the window. "That used to be part of the wall."
"He would hang two paintings at a time in the window," Ms. Finn continued. "And I stopped to gawk at them. He had come in and was packing this place up. So I asked if he had someone to take it over."
Mr. Guenther informally agreed to give her the space and introduced her to his landlord. She called Ms. Donahue—she was still, at best, just an acquaintance—who was in Los Angeles at a Matthew Barney performance, and the two agreed to go in on the space together, and to call other friends to join them, to defray the cost. Ms. Finn called Erin Somerville, a friend from college who worked at Andrew Kreps Gallery. Ms. Donahue got in touch with Kate McNamara, then an associate curator at MoMA PS1. The four of them were together in the same room for the first time the day they signed a 10-year lease on the storefront at 110 Meserole Avenue.
"It was a brash, crazy move," Ms. Donahue said.
They called it Cleopatra's because of the leftover sign on the old awning that read, "Cleopatra's Delicatessen."
There was no real plan when the four women came together, other than to operate outside of the institutional realm of the art world where they all spent their workdays. Ms. Somerville likens it to an arranged marriage. In the beginning, all four of them would go on studio visits together during off hours. Most of their projects have been idiosyncratic, the kind of shows that would be impossible to do in a commercial gallery. The Lynne Cooke show, for instance, is like a set of Russian dolls. It began as a show about how Ms. Cooke puts together a show, and was originally organized by Montserrat Albores, who debuted it at Petra, her space in Mexico City. It included extensive dossiers filled with ephemera and notes. The present show at Cleopatra's is, in turn, about what it is like to put together a show about putting together a show about how Lynne Cooke puts together a show.
Since opening, the four founders, in their lives outside Cleopatra's, have climbed the ranks of the art world—Ms. Finn now works at Independent Curators International, Ms. Donahue is the director of Gavin Brown's Enterprise, Ms. Somerville is one of the directors at Johann Koenig in Berlin and Ms. McNamara is the director and head curator of the art gallery at Boston University. Cleopatra's, meanwhile, has become an institution unto itself and not simply an experiment of art world renegades looking to defy their day jobs.