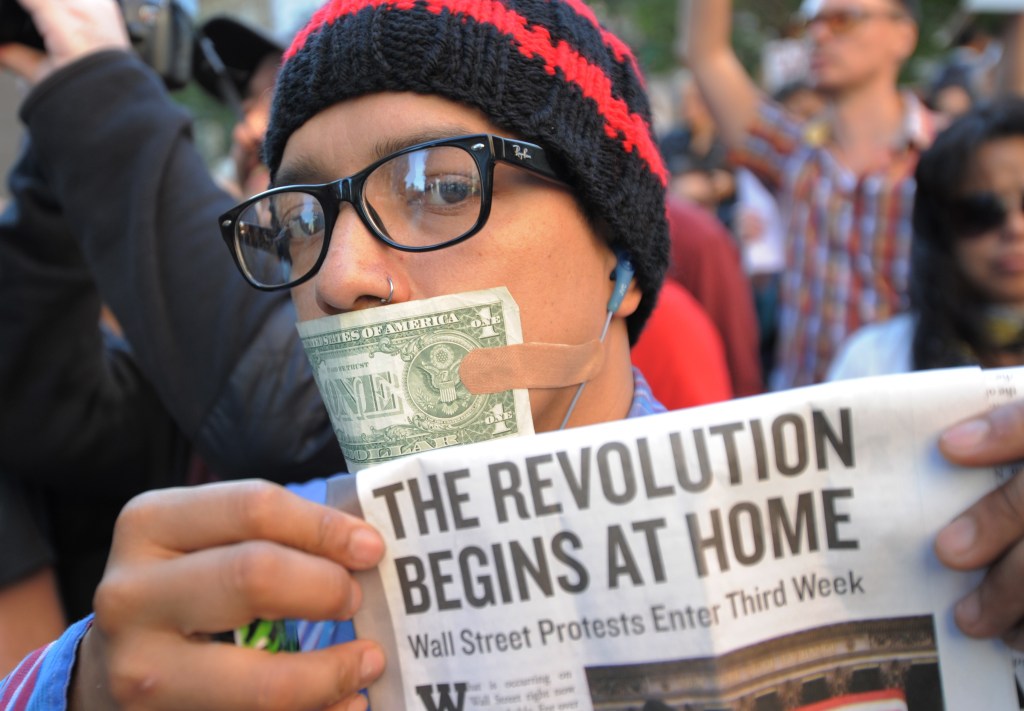 UPDATE: This story was revised October 18 with new information including an updated number for the total amount of funds raised by the protest. It was originally posted on October 14 and ran in The New York Observer print edition Wednesday, October 19.
"George Soros money is behind this!" Rush Limbaugh told his listeners two weeks ago, feeding speculation that the "99 percent" agenda espoused by the Occupy Wall Street protesters has filthy-rich backers—a claim picked up by Reuters and heatedly debated in the media. Soros money? If only. Around the time Reuters was walking back its headline, "Who's Behind the Wall Street Protests," later revised to "Soros: Not a Funder," protesters were voting on whether to spend $3,000 on brooms and trash cans to clean up the occupied plaza in order to avoid eviction by the city.
Back in July, when local activists hammered out the logistics of the Occupy Wall Street protest, they were planning for little more than an urban camping trip. Committees were established to handle security, medication and sanitation. Nourishment was a major concern. Fundraising was an afterthought.
Still, onlookers are rightfully eager to follow the money. Politics have been so dominated by financing for so long that a major movement without major backers seems unthinkable. Last week, Republicans announced a new Super PAC determined, according to The New York Times, to "raise and spend unlimited amounts of money to defend the party's majority next year"; meanwhile, President Barack Obama raised more than $42 million for his re-election campaign over the last three months.
Donations are flowing into Occupy Wall Street as well, though on a much smaller scale; as of Tuesday the protest's general fund has raised approximately $294,000, according to members of the finance committee on Tuesday (although the committee is still refining its balance sheet in advance of giving it to a CPA). That's enough to keep the demonstrators well-fed and livestreaming, but it's not Soros-level treasure.
More than 4,000 donations ranging from $5 to $7,000 and totaling about $214,000 have been collected online. About $1,000 in cash comes in every day through the empty five-gallon water jug at the ersatz cafeteria in the middle of the plaza and three duct-taped paint buckets stationed at the information booths. Michael Moore gave $1,000 after a book signing. An anonymous donor gave $5,000 after a fundraising pop-up art show, entitled "No Comment," held at the historic JP Morgan Building. The General Assembly, the group's open legislature, voted en masse to decline a donation from music mogul Russell Simmons, who wanted a hand in helping the protest shape demands (spawning a rumor that he'd asked the protest to endorse an album in exchange for $20,000). The total on-site donations, cash and check, is about $80,000. And that's just the general fund; more has been raised for tangential projects. Staffers of the free paper The Indypendent garnered $75,690 to print The Occupied Wall Street Journal via the crowd-funding site Kickstarter; another group has raised $2,971 on the crowd-funding site IndieGoGo to send "radical barbers" and "progressive tailors" to make over the protesters.
Meanwhile, organizers have had a crash course in money management. "It's radical finances," Victoria Sobel, the 21-year-old Cooper Union art student who served for a few weeks as Occupy Wall Street's unofficial CFO, told The Observer Sunday during an evening rendezvous at the protest's off-site conference room and facilities, McDonald's.
The group resisted temptation when it came from Mr. Simmons. But how can the decentralized movement, encompassing many varieties of purist from anarchist to libertarian to vegan—one protester told The Observer she maintained a strict alkaline diet—remain uncorrupted? Occupy Wall Street has to keep its books clean in order to avoid going the way of Al Capone. But it's also had to justify working with the banking establishment to its radical congregants, 24 of whom were arrested over the weekend during a mini-run on the LaGuardia Place Citibank. It's a delicate line to walk, especially when every major decision and any purchases over $100 have to be approved by the General Assembly, sometimes twice. The sanitation working group recently brought a simple proposal: the purchase of storage bins in order to tidy up the park. It passed, but only after a member of the assembly attached a friendly amendment stipulating that the bins should be certified Fair Trade. When attempting to purchase Fair Trade storage bins, the sanitation committee discovered they do not exist. The proposal had to be passed again.
The movement is also large enough that many people in positions of responsibility don't know each other, adding to the difficulty of establishing a financial infrastructure. When we first met Ms. Sobel, a young protester seated nearby couldn't help but overhear. "Hey, are you on Finance?" he asked. "I'm at the info booth, and we like, get a lot of money? What should we do?"
The movement has also inspired unaffiliated websites, claiming to be collecting funds for Occupy Wall Street. There are more than 200 occupation-related campaigns on the fundraising website WePay; some are rumored to be fraudulent, others merely unauthorized. The organizers behind OccupyWallSt.org started raising a separate fund for their own expenses, for $6,000, causing a kerfuffle with the finance committee. Meanwhile, people at the camp are "always trying to steal the buckets," Ms. Sobel said, and well-meaning protesters as well as opportunists have been seen walking around with their own buckets.