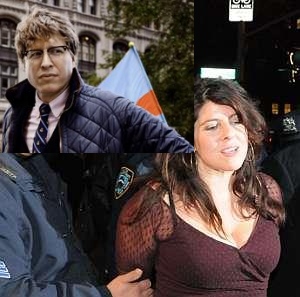 Remember last week, when writer/activist Naomi Wolf jumped sides during the Huffington Post's Game Changers party and joined up with the people protesting Governor Andrew Cuomo outside, leading to her arrest? According to ANIMAL editor in chief Bucky Turco, who filmed a portion of Ms. Wolf's stand against the man, her run-in with the police involved none other than beloved "Hipster Cop" Detective Rick Lee.


The video is dark and for the most part unintelligible, so we're taking Mr. Turco at his word that Ms. Wolf's efforts to tell the protesters that their rights were being infringed upon were intercepted by Detective Lee.
"What do you want to see the permit for," asks Lee. "I'm a reporter with the Huffington Post," responds Wolf. After a brief exchange, Lee went from explaining how the venue can restrict public movement to admitting they could technically "march" in front of the venue. Assuming she scored a coup, she went over to tell the protesters this, to which Lee can be overheard telling her, "They know already, don't waste your breath. They know that already."
Whether or not Officer Lee was the one to actually arrest Ms. Wolf remains unknown. But we doubt it…he seems like the kind of guy who has read The Beauty Myth.