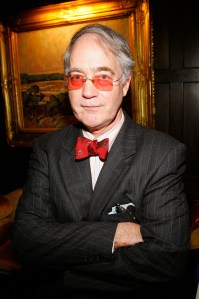 More news today in the continuing saga of the National Arts Club's attempts to evict its former president Aldon James, who was replaced earlier this year after it was alleged that he, his brother and their friend Steven Leitner all received cut-rate sweetheart deals on their living arrangements at the club.
A Manhattan Supreme Court judge had suspended proceedings saying that the club had wrongfully removed Mr. James and his associates from a September 22 board meeting.
No, no, the Club shot back today, in a filing and an accompanying statement. Mr. James and his associates were disruptive and had to be removed.
Here's Dianne Bernhard, the club's new president, in a press release:
As today's court filings demonstrate, during the September 22 board meeting Mr. James and certain other Board members purposefully disrupted the meeting, vindictively and personally attacked other Board members and generally created a harassing environment that forced us to adjourn the meeting without getting any of the business of the NAC done
We're sure more details will emerge, but from a gawking standpoint we're particularly interested in the "vindictive" part. Stay tuned!