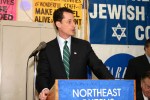 A new book by a woman at the center of the Anthony Weiner text-messaging scandal reveals some damning details about the disgraced lawmaker.
According to Traci Nobles, a former cheerleading coach who exchanged messages with Mr. Weiner, he sent explicit messages from his congressional office and bragged about masturbating in the House bathrooms.
The book is called "I Friended You" and excerpts were obtained by The Daily Mail.
In the excerpts, Mr. Weiner also complained about his wife's family, saying that since they were Muslim they never accepted him.
Mr. Weiner is Jewish. His wife is Huma Abedin, a longtime aide of Hillary Clinton.
Mr. Weiner also sounded off on his Republican opponent from the 2010 elections, Bob Turner, calling him "Just another rich businessman trying to buy himself an election…like Bloomberg."
Mr. Turner went on to win Mr. Weiner's congressional seat after his resignation.
Heartbreak for Huma as new messages reveal how Anthony Weiner called her parents 'backwards thinking' and compared her to his 'sextees' in vulgar messages [The Daily Mail]