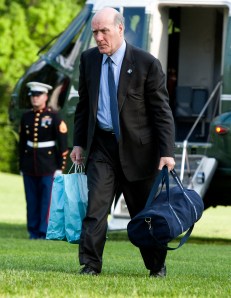 President Obama's Chief of Staff, Bill Daley, announced that he's leaving the White House after less than nine months on the job. His departure comes after increasing rumors of dissatisfaction with his job performance.
Mr. Daley said he'll leave the White House after President Obama's hypothetical re-election in an interview with NBC Chicago yesterday.
"I made a commitment to the President through his re-election, which I'm confident he will do, and then my wife and I will be back in Chicago," Mr. Daley send.
President Obama brought Mr. Daley to the White House in January to replace Rahm Emanuel, who left in October 2010 to mount a successful campaign for Mayor in Chicago. Mr. Daley is also part of the Chicago political machine, his brother, Richard M. Daley, spent six terms in the Windy City Mayor's office and his father, Richard J. Daley, was the city's Mayor for 21 years.
Mr. Daley began his career as a banker. He later became special counsel and Secretary of Commerce during the Clinton Administration. As President Clinton's second term drew to a close, Mr. Daley left to work on Al Gore's doomed 2000 Presidential campaign. Following Mr. Gore's defeat, Mr. Daley worked on the executive committee of JP Morgan Chase.
Mr. Daley's background in the corporate world was supposedly going to be an asset in helping him work with Congress, but his management style made enemies inside and outside the White House. Last month, Politico reported that Mr. Daley had angered D.C. power players with a "brisk, officious, closed-door corporate style" that left many feeling kept out of the loop.