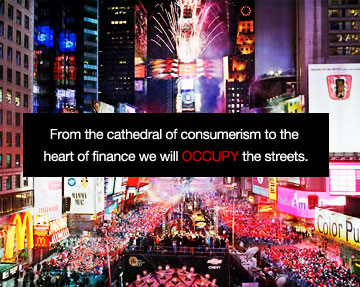 Marches inspired by the Occupy Wall Street protest have been parading all day around the world–at Fordham Plaza in the Bronx, with tear gas and billy clubs in Rome–but the parades are heading to Midtown for the main event, an occupation of Times Square. The Occupation Party! No, it's not a political affiliation. It's a party. Like, a party. With music and dancing and glitter.
"In New York City, dozens of community groups, unions, student organizations and lots and lots of regular folk are taking to the streets in a mass protest that will culminate in Times Square at 5 p.m., then moving (by train party!) downtown," says the website for the event.
Participants are directed to wear white, bring music and noisemakers and donations for the occupiers, and prepare for "a moment that will light the night (safe/legal and participatory)" at sunset.
"Think: white suits, dresses, face-paint, glitter, balloons, banners, be inspired," the site says.
Participants were given further instruction by email. "Arrive at 5 p.m. sharp. We will not be in Times Square for long."
+ At 5:59pm horns will signal a moment to quiet down.  Listen to those around you, lyricism will be rising, follow along.

+ After our moment, be prepared to move toward the trains…

We have just setup a twitter account in case of urgent changes.  To get text message / tweet updates, sign on here:  http://twitter.com/#!/OccupyPartyNYC

Side note of interest: the graphics for the invitation were designed by Shepherd Fairey.