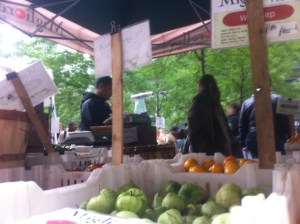 Every Tuesday, Zuccotti Park has a Farmer's Market. They recently picked up some new scenery: the protesters of Occupy Wall Street. And how did what many have characterized as a "leftist" and "hippie" movement affect the sales of their neighboring greenmarket, stocked with local produce from the neighboring region?
As The Observer reported a little under three weeks ago, not at all. As it turned out, the protesters were shunning the produce in favor of the foods—products of corporate-owned, publicly traded companies—being shipped to them by donors to their cause.
Well, as WNYC now reports, the farmer's market is moving locations explicitly because of the protests. They cite foot traffic and set-up/shut-down problems among those which eventually started to hurt their ability to sell their produce, which eventually resulted in fiscal trouble:
Despite a marked increase in foot traffic, vendors who work at the market said that sales had fallen as much as 25 percent during the past two weeks.
They also feared becoming caught in a clash between protesters and police:
Peter Schulick, who is the general manager of Red Jacket Orchards, which also sells its produce at the Zuccotti Park Greenmarket, said he was wary about setting up shop in Zuccotti Park, especially since the park's owner, Brookfield Properties, has vowed to clean the park with support from the New York Police Department, and a clash between protesters and the police seemed imminent. "I did not want to get caught in the crossfire," Schulick said.
As WNYC reports, the market has moved to West Broadway between Barclay and Park Place, six blocks from Zuccotti Park, and will continue to operate on Tuesdays.
fkamer@observer.com | @weareyourfek