Liveblog of the New York Occupy Wall Street protest march on Times Square. Scroll to bottom for Livestream run by the protesters.
12:05 a.m. The cops are currently closing down Washington Square Park. According to the Livestream and Twitter, most protesters left the  premises, but there are rumors of arrests.
10:59 p.m. The General Assembly is still debating whether or not to stay in Washington Square or head en masse back to Zuccotti Park. As Twitter user Jamie Kilstein put it: "There is a good chance unless a shitton of people show up at Washington Sq Park these kids will all get arrested. #ows #doit"
10:53 p.m. After some debate, it appears that the protesters have decided to stay in Washington Square Park and try to occupy it throughout the night, despite the midnight curfew, in an act of premeditated civil disobedience.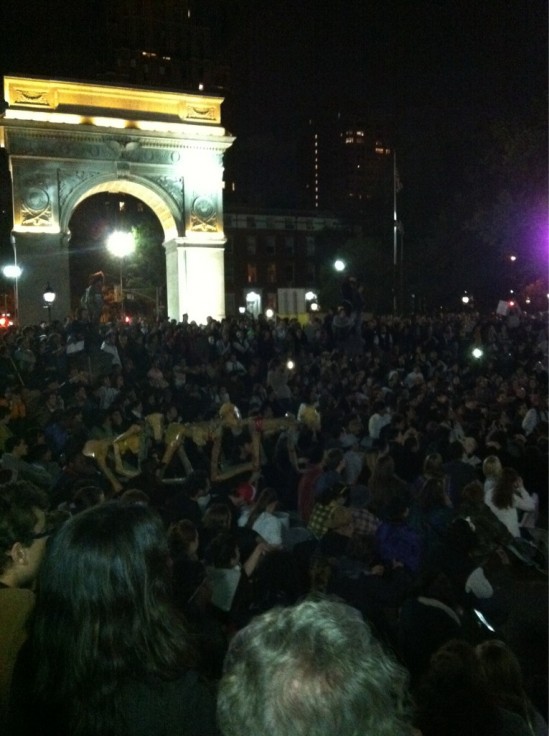 10:24 p.m. General Assembly clarified that they are not leaving their "home" at Liberty Plaza (Zuccotti Park), but they are looking to expand the movement to Washington Square Park.
10:05 p.m. General Assembly announced that Washington Square Park closes at 12a.m., and warned protesters that there is a good chance they could be arrested if they stay in Washington Square Park past that time.
10:00 p.m. Occupy Wall Street is hosting a General Assembly in Washington Square Park.
8:34 p.m. New York Daily News reports 71 arrests.
8:29 p.m. Gothamist reporting, "EMS is calling times sq protest a "MCI"—multiple casualty incident (reportedly at least 2 cops at hospital w/ injuries)." Livestream showing arrests.
8:07 p.m. Arrests. Mr. Gabbatt escapes by slipping under building netting, but reports "arrests on the other side."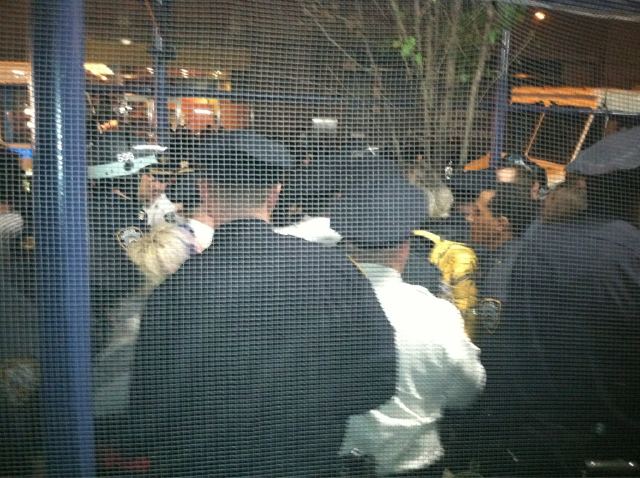 8:02 p.m. Twitter reports: TGIFridays handing out coupons to protesters.
8 p.m. "Mass arrests seem inevitable," tweets The Guardian's Adam Gabbatt, from a throng of 150 protesters surrounded by police on 46th between 7th and 8th Avenues.
7:55 p.m. Protesters filtering out of Times Square, heading toward Washington Square Park. Reports on Twitter of more arrests "for no reason!!!"
7:46 p.m. Line of riot police forcing crowd east along 46th, away from 7th, reports @DocRocket: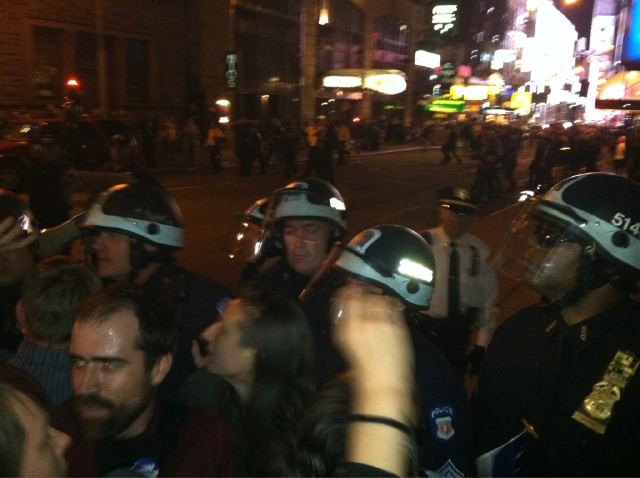 Meanwhile: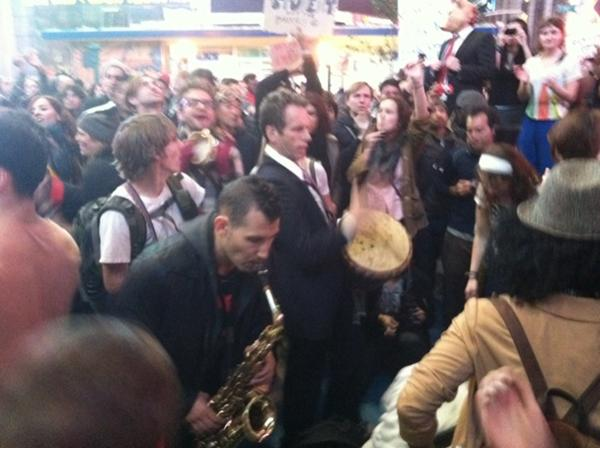 7:38 p.m. Michael Moore is tweeting live from the scene. "Amazing and overwhelming. Times Square packed w/ thousands btwn B'way & 7th Av from 42nd to 47th St."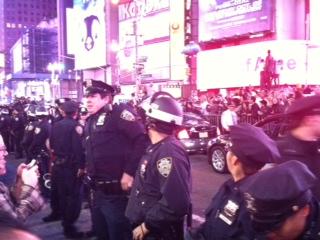 7:24 p.m. Livestreamer reports N.Y.P.D. chief says no arrests if protesters leave. Exiting Times Square now.
7:21 p.m. The occupation (party?) is winding down, "Times Square after party in Wash Sq Park now. Food provided. Bring sleeping bags," says @OccupyWallStNYC.
7:16 p.m. First tweet from @OccupyWallStNYC in half an hour: "Big stand off in the middle of Times Sq, some luck, brutality." Businessweek reporting 6,000 people.
7:13 p.m. They are sitting.
7:11 p.m. Traffic update from @anothrony: "Wow! Pedestrian traffic is severely congested."
7:08 p.m. Economic update from @halfghaninNE: "Just bought paninis 2 for 1. Local vendor desperate to sell. Business suffering during #OccupyTimesSquare interesting."
7:03 p.m. "Crowd calm with drums and dancing," says Andrew Katz on Twitter. "NYPD thanking those obeying orders." CNN goes live with coverage. Only about 5,000 watching on the Livestream, half of what it was earlier today. Europeans in bed and New Yorkers at Vice's Creators Project in Dumbo, we suppose.
6:52 p.m. WNBC is reporting "some 10,000 people" marched to Times Square. A 10 p.m. General Assembly at Washington Square Park is announced.
6:47 p.m. "Whole lotta cops just showed up," reports Brooklyn artist Man Bartlett on Twitter: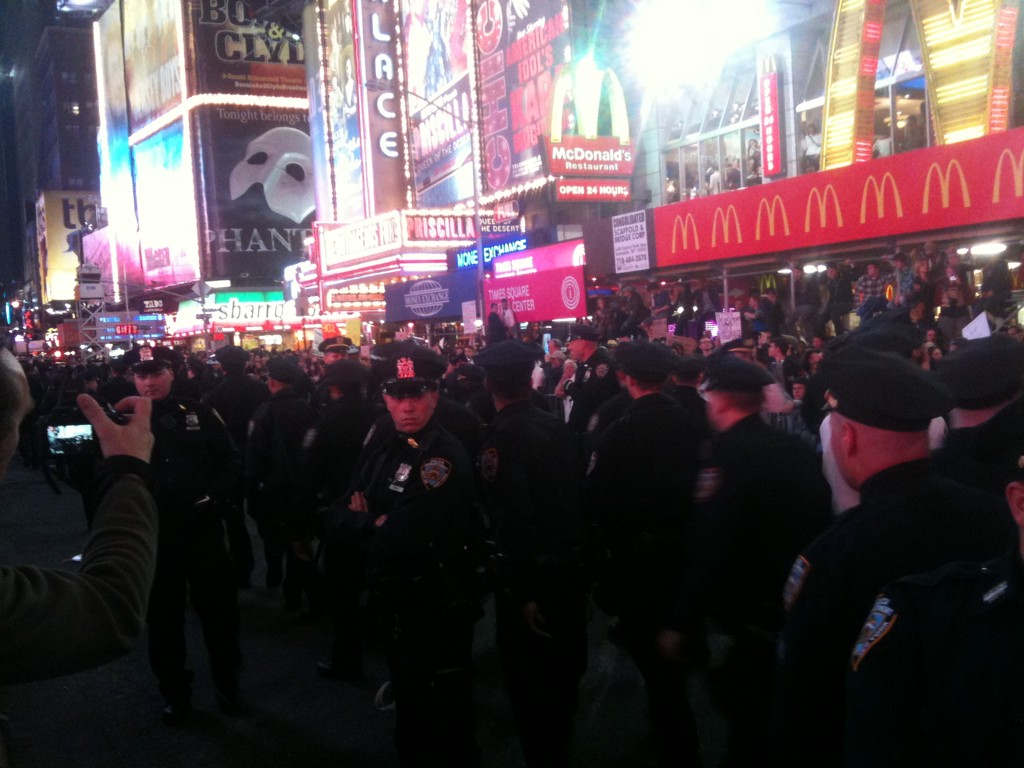 6:41 p.m. The scene appears calm but the protesters are packed in tightly. Protesters at 46th and 7th have started singing, "This Little Light of Mine."
6:36 p.m. Some of the Occupy Wall Street organizers are watching the scene from the 8th floor of the Marriott. "Times Square is #Occupied!" tweeted @OccupyWallStNYC.
6:33 p.m. According to tweets, at least three men arrested, one woman. Police are trying to guide the protesters north but it's difficult to move because of the barricades, says Mr. Kingkade.
6:30 p.m. "Hundreds of police entering corner of 7th and 46th to try to control peaceful #OccupyTimesSquare," writes the @OccupyWallStNYC Twitter: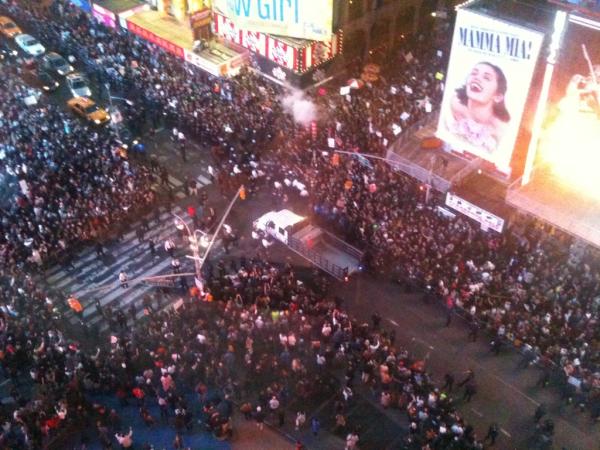 6:27 p.m. Video:

6:23 p.m. "Times Sq" is trending on Twitter. Cops riding horses into the crowd to break it up, according to tweets, and Mr. Kingkade reports seeing the first arrest.
6:20 p.m. Cops have riot gear on, reports Huffington Post's Tyler Kingkade on Twitter.
6:15 p.m. "Times Square is completely packed on the sidewalks," said New York Observer editor Aaron Gell, reporting from the ground. "The police are keeping the streets clear … so you basically can't move." People are in costumes as zombies, he said. "There's nothing really going on except that every time a tourist bus goes by, everybody cheers."
6:11 p.m. The sparklers are out. Moment of silence. "Haven't seen this many people in Times Square since Obama beat McCain," tweets thepete.
6:07 p.m. Livestream spotty. People are tweeting that Times Square is FULL OF PEOPLE.
6:04 p.m. Nothing reeeeally happening. More people arriving, more cops. Cops bringing metal barricades.
5:59 p.m. The overhead view from the Times Square Earthcam:
5:57 p.m. Livesteam is out.
5:53 p.m. Occupy Wall Street sends out a press release. "After triumphing in a standoff with the city over the continued protest of Wall Street at Liberty Square in Manhattan's financial district, the Occupy Wall Street movement has spread world wide today with demonstrations in over 1,500 cities globally and over 100 US cities from coast to coast," it says. "In New York, thousands marched in various protests by trade unions, students, environmentalists, and community groups. As occupiers flocked to Washington Square Park, two dozen participants were arrested at a nearby Citibank while attempting to withdraw their accounts from the global banking giant." The release ends with, "More actions are expected in the coming weeks, and the Occupation of Liberty Square in Manhattan will continue indefinitely."
5:49 p.m. Drum circle! "In the center of the drum circle, at least 50 musicians have started a massive brass band jam!" says @OccupyWallStNYC. "Around them, stilt-walkers dance. Dueling tubas. 4 trombones. 1 accordion. Trumpets, flutes, snare, bass drum."
5:49 p.m. "#OccupyTimesSquare #OWS : Small part of the crowd – head of the march. Police holding others back, redirecting," writes alphaleah on Twitter.
5:40 p.m. Livestream team doing interviews. "Just got in from Comic Con," tourists tell the Livestream team, which proceeds to fill them in on the events of the day.
5:40 p.m.

5:34 p.m.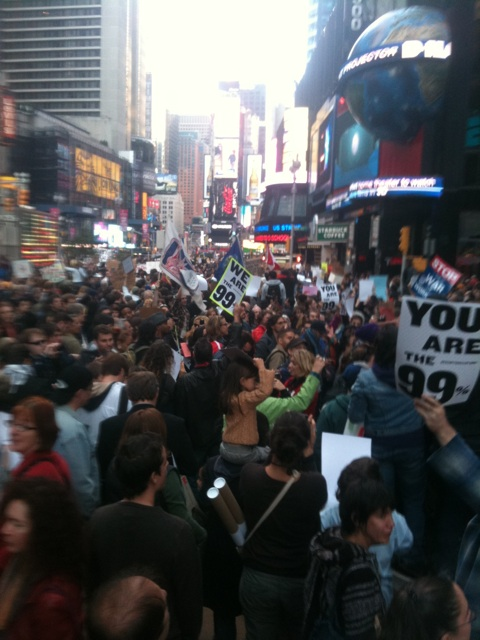 5:29 p.m. A protester on the Livestream says one group from Washington Square Park is at 30th Street and another group is heading up from Zuccotti Park on the train.
5:23 p.m. NYC the Blog reports 20 NYPD vehicles crawling slowly up 6th Avenue.
5:20 p.m. N.Y.P.D. arrive on horseback.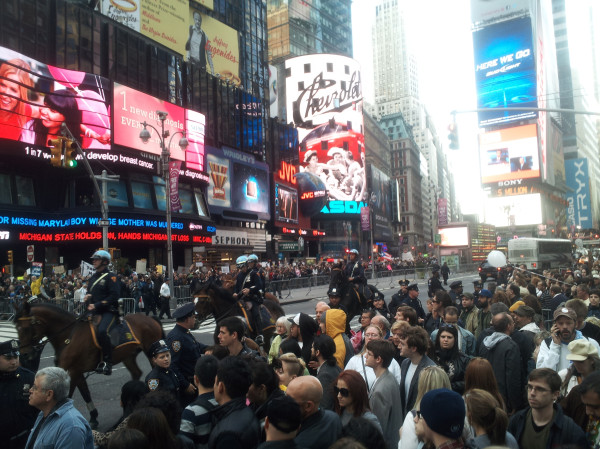 5:13 p.m. March now seven blocks from Times Square, reports OccupyWallSt.org. Livestreaming from Times Square: http://www.livestream.com/occupywallstnyc