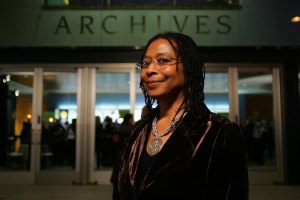 Last week we reported on the launch of Occupy Writers, a web site where hundreds of writers, including Salman Rushdie, Ann Patchett, Neil Gaiman and Alice Walker, have declared their public support for Occupy Wall Street. The site has expanded into literary content, having issued a call for participating writers to visit their local occupation and write about it: "a paragraph, a poem, a comic, a story, a vignette, anything goes." Two submissions have already been published, a short statement up today from the writer Francine Prose and a poem by D.A. Powell.
From Ms. Prose's essay:
I was struck by how well-organized everything was, and, despite the charge of "vagueness" one keeps reading in the mainstream media, by the clarity—clarity of purpose, clarity of intention, clarity of method, clarity of understanding of the most basic social and economic realities. I kept thinking about how, since this movement started, I've been waking up in the morning without the dread (or at least without the total dread) with which I've woken every morning for so long, the vertiginous sense that we're all falling off a cliff and no one (or almost no one) is saying anything about it.
We called Ms. Prose to ask about her involvement.  "Writing is actually what we do," she said. "It's not as if our lives as writers haven't been affected by corporate culture." As for publishing more work on the site, she said that "the more people say about it and the more effort that's made to keep things vital and alive the better." She emphasized that Occupy Writers is not just about famous writers. "One of the great things about Occupy Wall Street is their resistance to celebrity culture," she said.