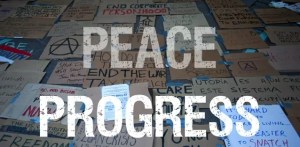 The New Yorker

put together a protest soundtrack for Occupy Wall Street members to listen to when they are picketing outside Rupert Murdoch's house today. Nina Simone's "Rich Girl" was a great choice. (But boo for the  lack of  "Uptown Girl" or "Diamonds in the Soles of Her Shoes." And how are there no Bob Dylan songs suggested? Would that be too obvious?)
What this generation of protesters needs though, are songs that speak directly to them. Songs that were written about the current situation going down on Wall Street and across the country. We need…an Occupy Wall Street playlist. Luckily, the musicians in Zuccotti Park have been working on a couple tunes that more aptly reflect our times.

1. Jeremy Gilchrist's "We Are the 99%"

Choice lyrics:
But there's a rising on wall street
I am you and you are me
We are the 99%'ers
On the right side of love and history
2. Johnny/From the Tropic of Entropy's "Occupation Blues"

Choice lyrics:
I ain't got no million
no hundred thousand
I ain't even got ten dollars
to my name
All i got
is a handful of nickels
hoping to the lord its enough
to buy me a bagel
3. Remy 's "Occupy Wall Street Protest Song"

Choice lyrics:
George Washington was
the richest man of his age
But he lost all his teeth
at a very young age
Because they didn't have Scope
and they all crapped in trays
we're not wealthy?
4. Jay Samel's "Smile"

Choice lyrics:
Muslims and Jews
You got nothing to prove
You just wasting your time
Searching for truth
(Alternatively, all the whispered hip-hop lyrics in the opening.)
5. The Roaring's (featuring Ari Herstand) "Finally Here"

Choice Lyrics:
Built our corporate present on them dotted lines
It's those strange shapes that seem to plague the mind
Mine and yours
An equation outdated
The prosecution suggests it be recalibrated