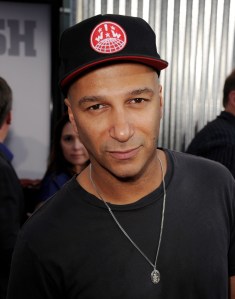 "There will be no 'bombtracks,'" Tom Morello curtly told the crowd a few songs into his set at the Javits Center last night. It wasn't clear if the Harvard-educated Rage Against the Machine guitarist was referring to his former band's song by that name, or the polemic ditties that song describes.
"Stop asking," he added.
It was the end of the first day of New York Comic Con and the attendees crammed the "IGN Theater" on the lower level for a solo show by Mr. Morello.
"I am the Nightwatchman!" he began, as he took the stage. He gestured to his backup band. "And these are my freedom fighters."
The first day was only for VIPs, four-day pass-holders and press — pros who wanted to get a lay of the land before the show was swamped with the costumed masses set to cram the aisles over the weekend. They weren't easily impressed, though they were not above waiting en mass for T-shirts, and did so at the movie set-style Marvel booth, as a woman paid to dress as an Avengers S.H.I.E.L.D. agent looked on blankly from her fake futuristic console.
The Morello concert came with the price of admission.
"It's not often that the Nightwatchman writes a love song," Mr. Morello said between songs, "but when you find yourself at the barricades as I often am, or at Occupy Wall Street, as I was this afternoon" — this won a mild whoop for the Nightwatchman — "your best friend at the barricades or in the trenches has six strings."
He launched into a song that was an ode to the black acoustic guitar he wore around his neck labeled "Black Spartacus." The chorus went "My Black Spartacus, heart attack machine," and featured some Rage-like strumming. A lone man at the front raised his fist in unison with Mr. Morello at the verse "hollowed out/ steel strings/ union-made/ let freedom ring!"
Mr. Morello said that his limited-run comic book was available for purchase at the back of the room and that those who bought it would be eligible for a free download of one of his songs. Gallerist is unable to report what any songs after the first three sounded like.