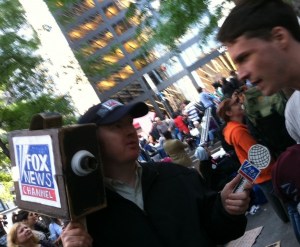 It's a beautiful Friday, and Zuccotti Park looks… different. Sure, there are the protesters we've come to know and expect, and the media is still there, full force. But something seems off.
"A lot of people are unhappy that the Libertarians are joining up," one General Assembly member told us on the condition of anonymity, "and there are some Tea Party people here too."
Well… right. Isn't that what Occupy Wall Street is all about? Giving everyone a voice? Not having a distinct list of demands or qualifications besides a general sense of anger at Big Banks and government bailouts?
Not anymore. This is what Democracy now looks like: Anarchy at war with its own internal organization.
Every section of Liberty Plaza is now being maximized for efficiency. There are vendors — the type you would see in Times Square — selling miniature Wall Street Bulls, snow globes, pins of African-American leaders, etc. The food truck vendors flanking the park aren't getting that much action, the occupation does not seem to be lacking for food. Besides the food donation area, there are pizzas being delivered on a regular basis from sympathizers who can order online and send to the park. There are stacks of bottled water, and an irrigation system on the opposite side of the food line: it's part of the compost and waste disposal system set up by a group called Mobile Design Lab.
The General Assembly itself has ballooned to include fifteen subgroups, including: Town (?), Learning + Education, Outreach, Media, Sanitation, and the "Arts & Culture" committee that everyone wants to be on. (Did you know Occupy Wall Street is holding its own biennial?). Their area of the park — near the pizza boxes — is by far the most dense.
Richard Brodsky, the former New York Assemblyman, is talking to a man with a fake Fox News camera made of cardboard. When we ask him if he's seen any Libertarians in the crowd he responds, "What the fuck?"
"Look, this is the best thing since sliced bread," Mr. Brodsky said, gesturing to the park, "There is no structure, it's more of a statement on how people should be treating each other than an institute of public policy. Change isn't made through public policy wonks, it's made organically." Then he leaves us, to go find someone from ABC with whom he has a real interview scheduled.
We begin to wonder if anyone realizes that that Fox News camera is fake. (So is that Sarah Palin impersonator walking around.) Everyone is now soundbite ready, and can talk about their particular cause at the drop of a hat. The park's demographic is now 50-50: half journalists (or people acting as citizen journalists), half protesters. Sometimes they switch parts and the person being interviewed will pick up their cameras or cell phone and start asking questions.
Since the Megamarch with the New York Unions, the group now skews older; we see two elderly ladies standing in the front of Zuccotti, holding signs that read, "Pissed off Grey Hairs say 'Jail the Wall Street Bastards." Next to them, a 20-something woman is hawking clothing, "Buy a shirt, support the cause, join the fight!"
We pick up pamphlets from the many folding tables now constructed around the perimeter, offering everything from green energy alternatives (Communityenergyinc.com… which has a deal with Con-Ed which they have "mixed feelings about," according to their spokesperson) to a "Free Law Counsel" area (where you can pick up an information packet about joining CUNY's law school).
There is a group called Coaching Visionaries which was formed four days ago, and is comprised of Certified Professional Coaches who are a little bit murky on what — or who — they are coaching. "Our website doesn't have a lot of stuff on it yet," one of the women admits. At first we think their literature has a typo, but no, the URL for the group is actually "www.visionaries.co." A woman thrusts a piece of paper in our face that reads "Johnson & Johnson Suspected in Attempted Murder" and directs us to FlossRings.com. There's also AVAAZ.org, an online petition group that broadcasts in 14 different languages and promises to have their ticker of signers up and running soon.
Chris Martenson, PhD is selling his book here, The Crash Course, and while he is telling us about the crisis in the global economy, I realize that the cameraman filming us isn't from a network…he's doing a documentary on the Dr. Matenson. If you can't be on the media, bring your own, right?
Every time we stop to write something down, another person pops us in front of us, asking what publication we're from and offering us a quote. Old, young, anarchists, suits…the only people we can't find in what now looks like a college job fair are those damn Libertarians that everyone is so worried about.
As we're leaving, we see one more sign, outside the park:
We wonder, briefly, what kind of membership deal this gym is offering to members of Occupy Wall Street, before realizing that it's a joke. At least, we hope it is.
So how long can this go on?
"Forever," says one girl with a bandana over her face. "Or until it gets cold out."