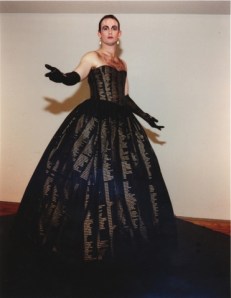 Hunter Reynolds, the visual artist and AIDS activist, will now be represented by P.P.O.W. in New York, according to the gallery. As an early member of Act-Up and a co-founder of Art Positive, he has used his work to share his experiences as a gay man living with HIV and to spread a message of survival and hope.
His work crosses several mediums, incorporating performance, photography and installations. His harrowing "Blood Spot" works take collages of articles about HIV and AIDS from the New York Times and drop an ominous splatter of red over the text. His alter ego Patina du Prey examines loss, gender and sexual politics through the use of performance (he wears a black mourning dress with 25,000 names of people who have died from AIDS printed on it). Mr. Reynolds has had solo exhibitions at White Colums, Artists Space and other museums and alternative spaces.
P.P.O.W. will feature Mr. Reynolds' work alongside David Wojnarowicz at The Art Show at the Park Avenue Armory in March 2012 and plans a solo exhibition at the gallery the following month.