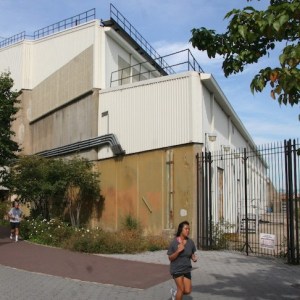 Even where the parkland is fine, East Siders see threats. The city is prepared to reactivate a marine waste transfer station at 91st Street that was shut down in the 1990s, but it lies next to Asphalt Green, one of the few public recreational facilities in north of 14th Street. Some advocates like Croft agree with the mayor that every neighborhood should deal with its share of the city's sanitation burden, rather than shipping it off to low-income neighborhoods in the outer boroughs. "Even on 96th Street or further south would be O.K.," Mr. Croft said. "I used to coach softball over there, and we had a tournament, and some kids came down from the Bronx and complained how bad it was. They said, 'This stinks, we're never coming back.'"
Others take a harder line. "This has unfortunately devolved into, the politest phrase for it is environment or social justice," neighbor Tony Ard said. "The advocates are lobbying for this site because of who lives there and what it represents." As though it were a vengeful move of decades of dumping in the outer boroughs. Which is where Mr. Ard still thinks the waste should go. "Does it make sense to drive it all the way up the East Side from all over Manhattan, rather than over the bridge into Brooklyn?" he said. Or, better yet, give it to the West Side, at Hudson Yards. "But they don't want to do that because it threatens their new development," he said. "Just give it to the neighborhood that's already fully developed."
See the parks—or lack thereof—on the East Side >>
Mr. Croft believes there is a simple solution to rebalance the East/West divide. He said the Bloomberg administration is giving the neighborhood short shrift because only $223 million from the U.N. deal is going to the esplanade. The sale of the playground site and adjacent buildings could lead to a windfall worth hundreds of millions of dollars, but according to a clause in the memorandum of understanding, any extra money goes to the city's general fund instead of to build additional park space on the East Side.
Assemblyman Kavanagh repudiated this plan, arguing the East Side is already getting more than most. "The expection always was that if the city was going to sell valuable assets that are producing income for the city, the general fund would benefit," he said. "We drove a hard bargain, and got a substantial portion of the proceeds for the community, for open space." Mr. Kavanagh added that it would be physically impossible to go much beyond the 30 feet of the shore and not impact the navigability of the East River.
Still, things could be worse. "If you're comparing East Side to the West Side, we now have a Fairway, we will have a waterfront Esplanade, things are finally beginning to even out," Mr. Garodnick said. "And, we still have the Met."
Correction: An earlier version of this article misstated the amount of money the East Side would receive for parks as a total of $150 million, not the actual $223 million. It also misspelled the name of Assemblyman Kavanagh. The Observer regrets the errors.