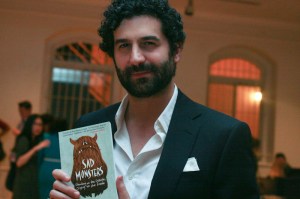 It's not very often that we attend parties comprised entirely of people wittier than we are, but we didn't feel that poorly about ourselves at the book release of Frank Lesser's Sad Monsters. After all, Mr. Lesser has been a writer for The Colbert Report for almost six years…of course his friends would be funny. And awkward. For a guy who just wrote a book about gay Frankensteins and passive-aggressive bogeymen (accompanied by New Yorker-esque illustrations by Willie Real), one couldn't help look at this gathering of friends and coworkers as the possible inspiration of Mr. Lesser's material.
While attending the "Monster Mash" costume party/book release at St. Mark's church on Sunday, we only briefly stopped to admire the live accordion player and the fortune teller  –"You are about to be part of a creative group project online," said the psychic who went by the name Fatsie Kline — before trying to unobtrusively join in a conversation with a cluster of comedy writers. It was harder than it looked.
Lang Fisher, a writer for The Onion News Network stood in a tight group including Colbert Report writer Opus Moreschi and Zara Findlay-Shirras, a producer for VH1's Big Morning Buzz Live. So what did these funny gals (and a guy) think of the book? We got a couple of blank stares and some false starts before Mr. Moreschi came up with his first line of the night: "I think Sad Monsters will win the MacArthur Genius Grant…which I will get half of."
His comments opened the floodgates as Ms. Findlay-Shirras excitedly interrupted, "Yeah, is there like a Pulitzer Prize for sadness?"
Mr. Moreschi (in somewhat of a non sequitur): "If you need healing, this is the book that will do it for you. Not me."
Ms. Fischer teed off that to come up with her praise: "If you like the Broadway musical Wicked — not the book, the musical — well, this book makes Wicked the musical look amateur." (Why Mr. Lesser hadn't hit up his friends for back cover blurbs remains a mystery.)
The small gathering of satirists lead to more introductions: we ended up talking to graphic novel writer and artist Fred Chao about working as an extra in the entertainment industry.
"Oh, I was on the finale of Bored to Death awhile back," Mr. Chao, whose book Johnny Hiro was included in last years  Best American Comics collection. "They had a scene with a comic book convention, and my friend Dean Haspiel — who is a really good friend of (Bored to Death creator) Jonathan Ames, and who Zach Galifianakis' character is based on  — told me I could get paid as an extra if I showed up. But if I brought my books, I'd get paid on top of the extra money for bringing props. I spent two days on set, and I made so little doing the extra work that it turned out my books-as-props were worth more than I was." The sad life of authors. And monsters.
"I don't know why Frank has this obsession with mermen and mummies," wondered Colbert head writer Barry Julien, who described Mr. Lesser's as unique, "but our script is always chock-full of them. In fact, if you are watching anything and they mention a merman or a mummy…I don't care what the show is, Frank probably had a hand in writing it."
"It's a blistering meditation on death," mused another Colbert co-writer, Rob Dubbin. "It's a vital inquiry into our fears. It has perhaps the most compassionate accounting of Sasquatch the world has ever known."
"Are we talking about our feelings again?" asked another one of Mr. Lesser's coworkers.
"No, we save that until the cuddle after-party," Mr. Dubbin demurred.
"That's right."
Mr. Dubbin then turned his focus towards a spirited discussion of the latest George R.R. Martin book. "They could have cut half the Daenerys chapters where she just wonders who she's going to marry," he complained, referring to The Song of Ice and Fire character. (What did you think Colbert writers talked about in their spare time? Though in all fairness, we were the ones who started it by talking about next season's Game of Thrones.) At least we were off the topic of feelings.
Andrew Barlow, a satirist whose work for The New Yorker included the piece "All I Really Need to Know I Learned by Having My Arms Ripped Off by a Polar Bear," was wearing a sombrero. "I don't know what I think," he told us after we asked his opinion on the book. He stared at the cover some more. "I'm drawing a blank." We gave him our card in case he thought of anything.
As the party was winding down, we asked Mr. Lesser to give a quote about his own book. "It's got more monsters in it than True Blood, but it's intentionally funny," he boasted, before quickly backtracking. "Don't use that, Alan Ball will never call me again."
So no Team Jacob or Edward?
"Oh god no," the comedian groaned, "I am definitely Team Imhotep." (We made him spell that out for us.) "I'm not interested in angsty vampires," said Mr. Lesser, "I'm way more interested in a claustrophobic, neurotic vampire who has issues with his sexual attractions towards bats."
If that isn't the best sell for a book we've ever heard, we don't know what is.