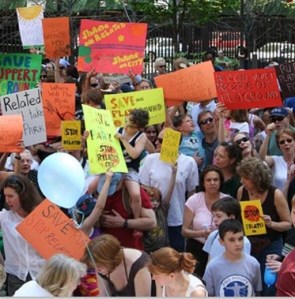 As The Observer recently chronicled, the East Side of Manhattan is so starved for parkland, locals will do just about anything to hold onto every blade of grass and monkey bar. At Ruppert Playground, neighbors have been fighting the powerful Related Companies, which is preparing to replace the open space with a new apartment tower possibly reaching 40 stories.
The developer has every right to do so, as it built the playground three decades ago and only had to keep it open through 2008. This has not kept those on the block and their elected officials from fighting the plan, but now Related seems to have found its secret weapon: photon rays!
No, the developer will not be wielding lasers in its NIMBY battle. Instead, it plans to build a state-of-the-art cancer in the base of the building, according to The Journal, an addition that appears to have won over some reluctant pols:
The group seeking to build the proton facility, New York Proton Center, is a nonprofit corporation backed by a consortium of local hospitals including Memorial Sloan-Kettering Cancer Center and the NYU Langone Medical Center, as well as 21st Century Oncology Inc., a private firm. The group has been searching for a location in Manhattan for well over a year, and last year won preliminary approval from the state Department of Health to build on a site on West 57th Street. Those plans appear to have been shelved, as the group began looking for a new site months ago.

The therapy, which targets cancerous tumors more directly than other forms of radiation therapy, has been growing around the country in recent years. While a treatment center has yet to be built in New York City, a facility is planned for Jersey City, N.J., while another is being built in Somerset, N.J.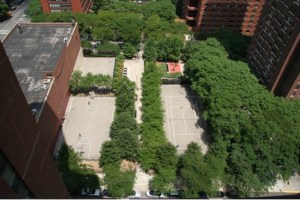 Related is also considering a way to incorporate at least some open space into its plan, which may assuage the neighbor's concerns. There is the possibility, though, that adding medical facilities could add to the tower's size, since it might qualify for a community benefits bonus under the zoning code, making this a double deal for Related: a tenant that pleases some opponents while making for a taller, and therefore more valuable, tower.