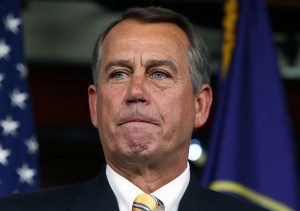 Members of a bipartisan "supercommittee" formed to address the national debt can't seem to agree on a plan and it doesn't look like they will any time soon. 
Details of both parties' spending plans leaked online yesterday. Democrats are pushing a plan that would save $2.5-$3 trillion through cuts to social programs and tax increases. Republicans want less tax increases and a $2 trillion savings. After both proposals leaked, insiders from both sides of the aisle bashed each other's plans.
House Speaker Boehner rejected the Democratic plan Thursday because of the tax increases.
"I don't think it's a reasonable number," Speaker Boehner said.
The Democrats' proposal also faced  internal criticism. Rep. Henry Waxman, a California Democrat told Politico the supercommittee was an "outrageous process" that was "not open and transparent."
"They don't lay out proposals for examinations. They don't get direct input on ideas," Rep. Waxman said.
Rep. Gerry Connolly, a Virginia Democrat, criticized the committee for leaving House Minority Leader Nancy Pelosi out of the talks.
"It's a mistake to not bring Leader Pelosi into meetings. … If she's not a stakeholder in a final product, neither is the Democratic caucus," Rep. Connolly said.
Some rank-and-file Republican lawmakers also expressed unhappiness with their party's plan due to defense cuts.
The deficit reduction committee was formed in August in the aftermath of the debt ceiling crisis when House Speaker John Boehner and President Barack Obama managed to reach a last minute deal that prevented America from defaulting on its creditors. There are six Democrats and six Republicans on the committee.
Though the government averted debt crisis at the buzzer in August, credit rating agency Standard & Poor's still downgraded the U.S. rating from AAA to AA+. Without drastic deficit reduction measures, America risks facing further downgrades.
Under the terms of the August budget deal, if the supercommittee is unable to agree on a plan with at least $1.2 trillion in savings by November 23, it will trigger automatic across the board budget cuts. If the committee does manage to reach an agreement, it will be given protection from amendments and filibusters and will only need a simple majority rather than a supermajority to pass.