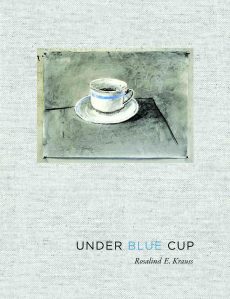 "Late in 1999, my brain erupted."
This is how art historian Rosalind Krauss begins her new book, Under Blue Cup, which will be published by MIT Press next month.
"I had an aneurysm, which is a brain attack," Ms. Krauss told The Observer as we sat in her office at Columbia University, where she has been an art history professor for almost 20 years. There was a lightbox on her desk covered with about a dozen slides of artworks. Chunky tortoise-shell glasses framed her intense, wide-set eyes; she wore a T-shirt by Seattle artist Sam Durant printed with a diagram inspired by one of her theoretical models.
When the attack came, blood flowed into her brain, "disconnecting synapses and washing neurons away," she says in the book. After three neurosurgeries, she recovered, but there were gaps in her memory. "When I got out of the hospital, the doctors advised me to do cognitive therapy, which is about remembering," Ms. Krauss continued. "They say that if you can remember who you are, you can teach yourself to remember anything, and it's true."
Arguably we all make a living by, so to speak, using our heads, but that is true of academics perhaps more so than others. By the time of her aneurysm, Ms. Krauss had become a central figure in academic art history, having published numerous books and curated major exhibitions at the Guggenheim and the Centre Pompidou in Paris. She was a tenured professor at Columbia, where, full disclosure, this writer took her 20th-century art lecture class in 2005.
Though Under Blue Cup addresses its author's recovery (its title comes from one of the flash cards she used in therapy to rebuild her short-term memory), it is not a memoir. Such a straightforward form would be unlike Ms. Krauss. Instead, it's something of a hybrid. In it, she uses her personal crisis to explicate her current theoretical interests. Along the way, she launches an assault on much of today's contemporary art, one that seems likely to generate controversy, a recurring feature of her nearly 50-year career.
As a Ph.D. student at Harvard in the 1960s, she wrote criticism for Artforum and established herself as a combative thinker, moving away from one of her intellectual forebears, then-reigning formalist critic Clement Greenberg, as she championed Minimalist sculptors like Robert Morris and Richard Serra instead of the Color Field painters Greenberg favored.
Bringing the work of European thinkers like Roland Barthes, Michel Foucault, Jacques Derrida, Ferdinand de Saussure and Melanie Klein into art criticism in the 1970s, Ms. Krauss provided a theoretical grounding for emerging art forms at the same time that she courted criticism from all sides. Journalistic critics considered her work arcane or hermetic, artist biographers found it ill informed, and philosophers questioned its rigor.
"She's obviously the most important critic of her generation, and she deserves that place because she is dazzlingly original, really amazing," said David Carrier, a philosopher and art historian at Case Western University, who in 2002 published a book about Ms. Krauss's philosophical evolution. "But at the same time, I was critical." American philosophers rejected much of the French theory she embraced, he said. "Art critics, like people in literature, weren't prepared to have any perspective."