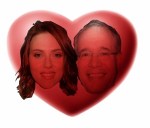 Manhattan borough president seems determined to milk his endorsement from Scarlett Johansson for as long as possible.
The news that the actress was backing the beep in his mayoral run was first broken by The Politicker, and was quickly picked up on by The Post ( more than once) The Times and elsewhere.
This morning then Mr. Stringer followed up with an email to his supporters titled, "What A Night!" and detailing the "shared vision for the city" that he and Ms. Johansson share.
I am not sure how many voters Ms. Johansson moves, but she has added a bit of glitz to the early stages of the mayor's race.
Full email reprinted below:
Dear Friend,
What a night! Three weeks ago, Scarlett Johansson hosted two events in one evening and kick-started our 2013 campaign with a bang!



Take a look at who took notice: The New York Times, The New Yorker, New York Magazine, New York Post, Daily News, Huffington Post, The Observer and many more.
Scarlett and I have a shared vision for the city – one that demands environmental justice in all communities, where classrooms are not overcrowded, and where artists and entrepreneurs can afford to live and thrive. I say vision for change is critical, but successfully organizing for change is paramount.
Join us and so many others to help make this our most successful fundraising period yet. Tell the naysayers that inviting new voices to the table is not a distraction, it's a strength. Show your support with a donation online now. Give $20, $50, $100. Or sign up for a recurring contribution plan! Donate a few bucks every month to help the cause.
Thank you for all of your support. Let's do this!
Best,
Scott