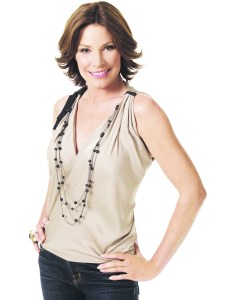 Don't let the warm weather fool you, we are officially in Fall season mode. You can always tell the changing of the seasons by the changing of the leaves, or at least by the changing of the hair colors of The Real Housewives of New York—which we anticipate will take place any day now in some of the city's higher end hair care establishments as LuAnn de Lesseps and Ramona Singer reap the rewards of their cast-off cast members by doubling their salary. The two will now be getting $500,000 each to throw champagne in each other's faces. Who says that there are no high-paying jobs anymore? Rather unbelievably, fellow New Yorkers, these are the 1%.
Meanwhile, the Occupy Wall Street protesters, who are some heretofore undetermined percentage of the remaining 99%, have moved on to their fourth consecutive week in the hospitable lodgings of Zuccotti Park. Mayor Bloomberg changed his tune about the city's newest attraction, saying that the protesters were welcome to stay in the park as long as they liked. (Which, he's hoping, will not extend past November's first frost.)
The cooling temperature could also be a good excuse for city-dweller Beyonce, whose baby-bump seemingly collapsed during an interview with an Australian TV show this week, fueling speculation that she was just using the padding… as insulation for her real baby, due in February! It was an embarrassing faux-pas for the Harper's Bazaar cover celeb, who spent her profile in this month's glossy talking about her pregnancy. The reception was, shall we say, icy.
Other places where the chill factor drops to below zero? The New York Times, where a memo circulated reminding staffers to report any speaking engagements where they received more than $5,000. We're still trying to guess the blind item on who failed to ask "pretty please," but if we had to take a guess, we're going with Jill Abramson pocketing extra scratch by talking up cute puppies during a secret Westminster semi-final event. Perhaps she could join up with New Yorker's Susan Orlean, who held her book party for Rin Tin Tin: The Life and the Legend at The Kennel Club.
And really, is there a quicker route to fame and fortune than writing a book about dogs? Sure: just be the perkiest thing at 4:30 in the morning (without the use of recreational stimulants). We assume that's the reason that NY1's traffic reporter Jamie Shupak was profiled in The New York Times this weekend under the title "A Star Is Born." We have nothing against Ms. Shupak, who we recently named one of New York Media's most eligible bachelorettes, but the bar for stardom must have dropped a bit closer to sea level if you can reach it now by reporting construction delays on the BQE. (That or Times headline writers have been using recreational stimulants.)
Then again, we're not sure where the stardom bar is anymore anyway. Elizabeth Olsen, who took a break from NYU classes to premiere her breakout feature, Martha Marcy May Marlene, at the New Yorker Film Festival, seems to be eclipsing both of her famous twin sisters. The bar there, for thespianism at least, is somewhere in the Dead Sea basin range, but the Other Olson seems to doing well critically. You never know what Autumn will bring.