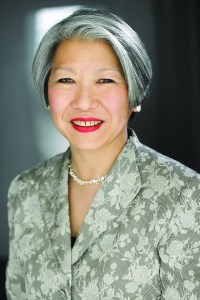 These days, Susan Chin is moving at breakneck speed. "I can barely fit this in," she lamented when The Observer rang her in early October, just days before she took her post as the executive director at the Design Trust for Public Space, a forward-thinking nonprofit that links private development projects with community needs.
The "this" she is referring to wasn't even an interview; it was the call to try to organize a time for the interview.
As assistant commissioner for capital projects in the New York City Department of Cultural Affairs—a position she held for the past 23 years—Ms. Chin worked to guide $2 billion to over 200 cultural institutions across the city. At City Hall, she helped shape the city's urban landscape for years to come, ushering in projects like the New Museum on the Bowery, Lincoln Center's Alice Tully Hall and the Museum of the Moving Image in Queens.
Few other individuals in New York have worked so tirelessly to get big, ambitious building projects off the ground, cementing the city's role as an international cultural capital. Ms. Chin helps make New York look like New York and anticipates how it will look 50 or 100 years from now.
Projects she has supported have earned high praise. The New York Times called the New Museum "a magically unsentimental intrusion, an an-tidote to the generic luxury springing up around it." It's a tagline that could well be her mission statement.
On the cusp of her migration to the Design Trust, a sort of think tank for the optimum uses of public space, Ms. Chin was upbeat. Founded in 1995, the Trust has been key in transformative projects like the High Line and collaborates with interests as disparate as the fashion industry and the Taxi and Limousine Commission, doing its utmost to keep the city vibrant and make living here a better prospect. "Here we go. I'm ready for a new adventure," Ms. Chin said briskly.
In spite of the grim economic news of late, Ms. Chin expresses optimism for the city of the future. "It's about helping people [to] plan, to choose great designers, to build really exceptional museums, theaters, botanical gardens," she says. "When you have an economy where things are not so robust, it's a great time to plan," she adds. "As long as we are strategic, and have a vision about the future, that's really when the economy can recover. [It's] constantly thinking: how do you make small moves that will put people to work?"
Her associates in the world of architecture agree. Rick Bell, the American Institute of Architects' executive director for New York, believes vi-sionary designers are eager to work "more in this city than anywhere in the world…What is needed is to get projects moving, and [to] bolster the atmosphere that encourages new construction and innovation." Ms. Chin, he says, brings "creativity, exuberance and persistence to the tasks at hand, including others in collaborative decision-making but taking responsibility for bringing new ideas, new initiatives and new spaces to light."