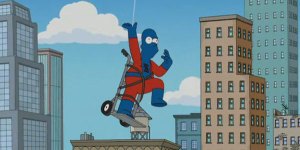 Having already received their Taiwanese animated reenactment, it was only a matter of time before the hot mess that is Spider Man: Turn Off the Dark's epic screw ups received a larger pop culture callback. Last night, The Simpsons aired their yearly "Treehouse of Horror" Halloween episode, which included a not-at-all-subtle slam on the show's troubled Broadway production. The producers officially responded this morning, and of course—as is the case with any Broadway producer—are using the wildly insulting lampooning for a press moment.
Via TV.com, a recap of the segment entitled "The Diving Bell and the Butterball":
It started off parodying one of the best foreign films of the last ten years, The Diving Bell and the Butterfly—a touching and imaginative movie about a man who learns to communicate despite being unable to move anything but his eyelids. Homer found himself in a similar position after being bitten by a spider, but instead of blinking, his communicated by farting. And farting. And farting. Despite realizing that it was completely stupid, I secretly giggled every time Homer pushed methane. Hey, you're either all in or you're not. At one point Marge hushed Homer's butt, which was funny, but the sketch took a bizarre turn when Homer suffered another spider bite and became a paralyzed Spider-Man, swinging around Springfield and stopping crime despite not being able to move. I commend this sketch for saying "F**k it" and going completely absurd. But really, how did this make it to air?
Spider Man: Turn Off The Dark made headlines after being one of the most costly and dangerous productions in the history of Broadway theater. Actors have fallen from stunt cues and been injured on stage, in front of audiences. A re-worked of the show even included self-referential moments taking note of the New York Post's notoriously cruel coverage of the show's major failings and bloopers.
This morning, producers of the show responded with the following press release through the show's spokesman, Rick Miramontez:
Everyone at SPIDER-MAN Turn Off The Dark was extremely flattered by last night's tribute on 'The Simpsons.' 'The Simpsons' is an iconic American institution, and being part of last night's episode was an honor and dream come true. As a token of their appreciation, the SPIDER-MAN Turn Off The Dark producers, Michael Cohl and Jeremiah J. Harris, have invited the entire Simpsons family (including, and especially Bart) on an all-expense-paid trip to New York City to sit front row at a performance of SPIDER-MAN Turn Off The Dark, and then come backstage for a meet-and-greet with the cast and for a champagne toast (the French stuff)."
If "an honor and a dream come true" constitutes your shows' reputation for being one of the most injury-prone, expensive, confusing productions on Broadway still manically trying to recoup the initial investment at (literally) any cost being enshrined into pop culture, then by all means, Spider Man producers are having a hell of a day.
fkamer@observer.com | @weareyourfek