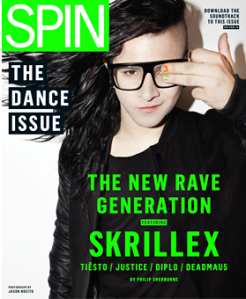 SPIN Brands announced Oct. 11 the creation of a new editor-in-chief for online and the appointment of three new editors: Caryn Ganz, Christopher R. Weingarten, and David Bevan. SPIN also announced a redesign of SPIN.com for next year, which the editor-in-chief for online will contribute to.
The new title will be taken by Ms. Ganz, formerly of Spin, the Yahoo! blog Amplifier, and RollingStone.com. Spin, Village Voice, Revolver, and Rolling Stone contributor Mr. Weingarten is now a Spin senior editor. Former Pitchfork Media staff writer, Mr. Bevan, will serve as an associate editor.
Ms. Ganz's new role replaces Mark Bautz's position of online editor and will assume an expanded role. She will oversee multimedia content on SPIN.com as well as related platforms. Ms. Ganz will also work on a redesign of the site with digital general manager Jeff Rogers planned for next year.
Peter Gaston, formerly interactive director, will move into another new title, special projects director, and will oversee advertiser-driven programs requiring editorial input and content development, as well as managing video on behalf of the SPIN brand.