Apple (AAPL) founder Steve Jobs  died today at 56 years old. Mr. Jobs's battle with cancer that forced him to take a hiatus from, rejoin, and then relinquish his post as the head of Apple was well-documented in the press. Apple's press release, right here, via Yahoo Finance:
We are deeply saddened to announce that Steve Jobs passed away today.

Steve's brilliance, passion and energy were the source of countless innovations that enrich and improve all of our lives. The world is immeasurably better because of Steve.

His greatest love was for his wife, Laurene, and his family. Our hearts go out to them and to all who were touched by his extraordinary gifts.
Apple's Homepage: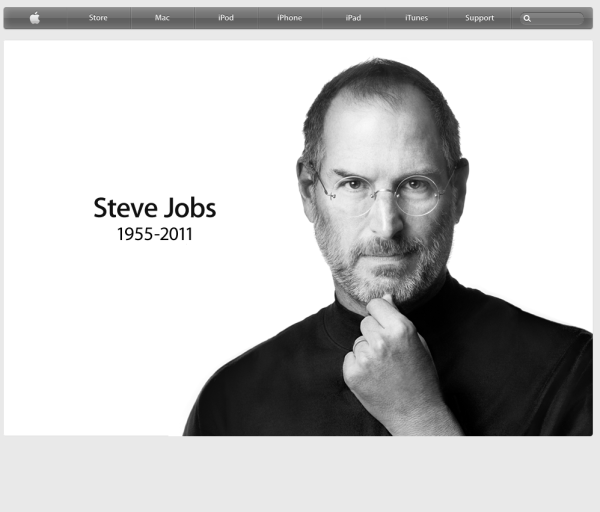 And when you click through: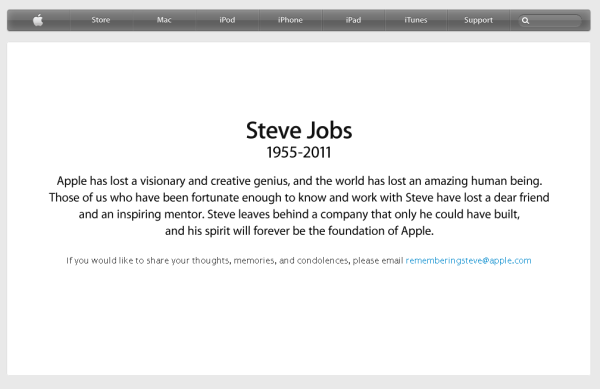 At a now-famous commencement speech from Stanford University in 2005, Mr. Jobs touched upon the rather delicate subject of mortality:
No one wants to die. Even people who want to go to heaven don't want to die to get there. And yet death is the destination we all share. No one has ever escaped it. And that is as it should be, because Death is very likely the single best invention of Life. It is Life's change agent. It clears out the old to make way for the new. Right now the new is you, but someday not too long from now, you will gradually become the old and be cleared away. Sorry to be so dramatic, but it is quite true.

Your time is limited, so don't waste it living someone else's life. Don't be trapped by dogma — which is living with the results of other people's thinking. Don't let the noise of others' opinions drown out your own inner voice. And most important, have the courage to follow your heart and intuition. They somehow already know what you truly want to become. Everything else is secondary.
Video of that speech here. Arguably Jobs' biggest rival over the course of his career, Microsoft founder Bill Gates has released a statement:
I'm truly saddened to learn of Steve Jobs' death. Melinda and I extend our sincere condolences to his family and friends, and to everyone Steve has touched through his work.

Steve and I first met nearly 30 years ago, and have been colleagues, competitors and friends over the course of more than half our lives.

The world rarely sees someone who has had the profound impact Steve has had, the effects of which will be felt for many generations to come.

For those of us lucky enough to get to work with him, it's been an insanely great honor. I will miss Steve immensely.
Via Newsweek's Tumblr, Mark Zuckerberg's statement on Jobs:

Jobs' family's statement was released a short while later:
Steve died peacefully today surrounded by his family.

In his public life, Steve was known as a visionary; in his private life, he cherished his family. We are thankful to the many people who have shared their wishes and prayers during the last year of Steve's illness; a website will be provided for those who wish to offer tributes and memories.

We are grateful for the support and kindness of those who share our feelings for Steve. We know many of you will mourn with us, and we ask that you respect our privacy during our time of grief.
The Wall Street Journal appears to be first out of the gate with a comprehensive obituary that clocks in at over 3,000 words. Bloomberg has one as well, and it's 5,854 words long (a version of which they accidentally once ran prematurely, in 2008).
The New York Times—usually first out of the gate with well-prepared obituaries—at the moment only had a blog post up on their Bits vertical, but eventually posted John Markoff's 3,499 word obituary/tribute to Jobs less than an hour later. Gizmodo's Jesus Diaz made a "Think Different" tribute video.
As of this writing, #RIPSTEVEJOBS is the top trending topic on Twitter, and the President will reportedly release a statement on it later this evening. UPDATE: Here it is.
Michelle and I are saddened to learn of the passing of Steve Jobs. Steve was among the greatest of American innovators – brave enough to think differently, bold enough to believe he could change the world, and talented enough to do it.

By building one of the planet's most successful companies from his garage, he exemplified the spirit of American ingenuity. By making computers personal and putting the internet in our pockets, he made the information revolution not only accessible, but intuitive and fun. And by turning his talents to storytelling, he has brought joy to millions of children and grownups alike. Steve was fond of saying that he lived every day like it was his last. Because he did, he transformed our lives, redefined entire industries, and achieved one of the rarest feats in human history: he changed the way each of us sees the world.

The world has lost a visionary. And there may be no greater tribute to Steve's success than the fact that much of the world learned of his passing on a device he invented. Michelle and I send our thoughts and prayers to Steve's wife Laurene, his family, and all those who loved him.
The flags at the Apple headquarters in Cupertino are also, it has been noted, at half-mast. And our favorite tribute, which is very easily BoingBoing's, who skinned their entire site to pay their respects: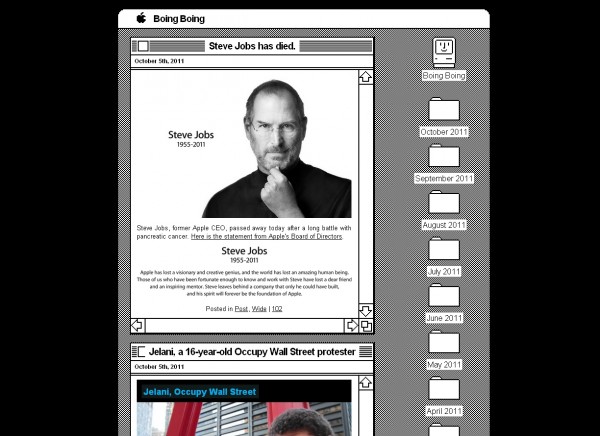 [Photos via Getty]
fkamer@observer.com | @weareyourfek