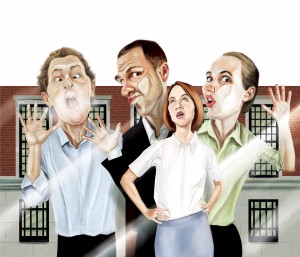 The tony Spence School is having a neighbor problem. Or rather the neighbors are having a problem with Spence. The institution's planned addition of a three-story, glass-and-steel structure that would join its two adjacent buildings has Carnegie Hill residents frustrated, and a recent real estate deal by the school has only made matters worse.
"It's gone from connector to atrium, and now it's the commons room," explained Susanne Dietrich, who lives on the third floor of an apartment building that will flank the proposed atrium. "It will go right past my bedroom and living room windows and sort of consume all the light and air. It will be like 30 feet from my apartment windows."
While Spence's most iconic building may be the William Goadby Loew House at 56 East 93rd Street (the limestone mansion, frequently seen in films and TV shows like Gossip Girl), since 1929, the school has also owned an eight-story edifice at 22 East 91st Street. The eight-story, neo-Georgian beauty houses the middle and upper schools.
In 2008, the school spent $27 million to buy another property, the Wanamaker Munn House, which is directly behind the 91st Street campus and faces East 90th Street. Shortly after the acquisition, the neighbor problems began when plans were announced to build a corridor connecting the main building to the Wanamaker Munn House. The neighbors at first didn't object to the connector itself, but as the project evolved it became clear that something more expansive was in the works.
The plans, as they stand now, call for a 33-foot-tall glass enclosure. Renderings of the project now available show an edifice that bears a stronger resemblance to an Apple store than to the buildings it will connect. Spence, however, believes that the size is appropriate, projecting that approximately 4,000 trips will be made through the corridor each day. (Parents have reportedly voiced concern about the "scrapes and bruises" their girls accrue in the course of hurrying up and down the stairs, a necessity under the current set-up.)
All the hue and cry—and lawyering—by the neighbors has done little to slow the project. Despite the opposition, the plan was approved by both Community Board 8 and the Landmarks Preservation Commission.
"You know they have tons of money, tons of power in the city. And it's hard to fight them," said Ms. Dietrich, referring to the influence wielded by the school, which boasts an endowment north of $90 million. "It's a little like banging your head against the wall." (It was also mentioned pointedly to The Observer that both of Mayor Bloomberg's daughters are alumnae.)